MOSFET Gate Driver offers adjustable voltage from 5-8 V.
Press Release Summary: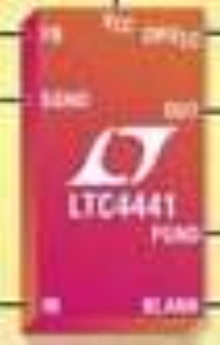 Featuring input supply range of 5-25 V, Model LTC4441 provides peak output current of 6 A, which allows DC/DC controller to drive N-channel MOSFETs or multiple MOSFETs in parallel. Open-drain output with adjustable blanking prevents ringing when sensing source current of power MOSFETs. Propagation delay for driving 4.7 nF capacitance with 7.5 V drive voltage is 30 ns. Unit's design permits logic threshold driver input to be driven below ground or above driver supply.
---
Original Press Release:

6A MOSFET Driver Drives Standard and Logic Level N-channel MOSFETs, Prevents Ringing


Milpitas, CA - November 17, 2004 - Linear Technology Corporation introduces the LTC4441, a 6A MOSFET gate driver designed to increase the output power and efficiency of a DC/DC controller by allowing it to drive higher power N-channel MOSFETs or multiple MOSFETs in parallel. The LTC4441's gate drive voltage is adjustable from 5V to 8V, allowing designers to choose either standard threshold or logic level MOSFETs rather than limiting the choice to only one type of MOSFET or using two different MOSFET drivers. The LTC4441 also features an open-drain output with adjustable leading edge blanking to prevent ringing when sensing the source current of the power MOSFETs. The LTC4441 has a wide input supply range from 5V to 25V and provides a simple solution for increasing the output power capability of power supplies in telecom and industrial systems, including improved drive capability in motor/relay control and line drivers.

The LTC4441 includes a linear regulator for gate drive that is adjustable from 5V to 8V with an external resistor. Propagation delay for driving a 4.7nF capacitance with 7.5V drive voltage is only 30ns. Moreover, a robust design permits the logic threshold driver input to be driven below ground or above the driver supply. Also, a TTL/CMOS compatible input threshold allows a low voltage digital signal to drive standard power MOSFETs. Other protection features are undervoltage lockout and overtemperature circuits which disable the driver output when activated. The LTC4441 is housed in a thermally enhanced 10-lead MSOP and can easily sink and source up to 6A peak output current. An 8-lead SO package, the LTC4441-1, is also available without the blanking function.

The LTC4441 and LTC4441-1 are rated for operation from -40°C to 85°C. 1,000-piece price starts at $1.80.

Summary of Features: LTC4441
6A Peak Output Current
Wide Input Supply Range from 5V to 25V
Adjustable Gate Drive Voltage from 5V to 8V
Logic Input Can be Driven Below Ground
Adjustable Blanking Time Reduces Ringing
30ns Propagation Delay

Company Background
Linear Technology Corporation was founded in 1981 as a manufacturer of high performance linear integrated circuits. Linear Technology products include high performance amplifiers, comparators, voltage references, monolithic filters, linear regulators, DC-DC converters, battery chargers, data converters, communications interface circuits, RF signal conditioning circuits, and many other analog functions. Applications for Linear Technology's high performance circuits include telecommunications, cellular telephones, networking products such as optical switches, notebook and desktop computers, computer peripherals, video/multimedia, industrial instrumentation, security monitoring devices, high-end consumer products such as digital cameras and MP3 players, complex medical devices, automotive electronics, factory automation, process control, and military and space systems.

Worldwide Contacts
North America
John Hamburger
Tel: (408) 432-1900 ext. 2419
jhamburger@linear.com

Doug Dickinson
Tel: (408) 432 1900 ext. 2233
ddickinson@linear.com

China (PRC)
Fanny Lau
Tel: 852-2428-0303
flau@linear.com

Germany
Ralf Stegmann
Tel: +49 (0) 7131/9234-0
ralf@ezwire.com

Japan
Kazuto Takahashi
Tel: 81-3-5226-7291
takahashi@linear-tech.co.jp

UK & Scandinavia
Alan Timmins
Tel: +44-1-252-629937
a.timmins@ntlworld.com

Korea
Desiree Park
Tel: +82 (0) 2812 1144
desiree@ezwire.com

More from Cleaning Products & Equipment