MOSFET Gate Driver Integrated Circuit provides 3,750 Vrms of I/O isolation.
Press Release Summary: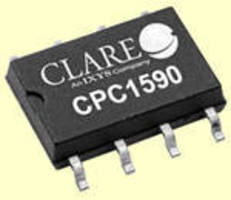 Designed for remote switching of DC and low frequency loads where isolated power is unavailable, optically isolated Model CPC1590 uses bootstrap biasing technique to eliminate load-side power supply. External power MOSFET is controlled by application of 2.5-10 mA LED current to CPC1590, which activates internal load-side driver circuit. Housed in 8-pin package, IC provides blocking voltage rating of 200 V, turn-on time of 40 µs and turn-off time of 110 µs with 2.5 mA LED input current.
---
Original Press Release:

Clare Introduces 200Volt Optically-Isolated, Self-Biased Gate Driver



CPC1590 is specifically for remote switching of DC and low frequency loads where isolated power is unavailable

Beverly, Massachusetts, USA - October 20, 2009 - Clare, Inc. an IXYS company (NASDAQ: IXYS - News), announces the immediate production release of the CPC1590, an optically isolated MOSFET gate-driver integrated circuit which uses a bootstrap biasing technique to eliminate the load-side power supply. An external power MOSFET is controlled by the application of a low input LED current (2.5 to 10mA) to the CPC1590 which activates the internal load-side driver circuit. The CPC1590 IC connected to the load, together with an external storage capacitor provides bias to the internal driver circuit which eliminates a costly power supply. This device is specifically designed for low duty-cycle switching frequencies and offers isolated solid-state control to replace large modules and multi-component discrete solutions.

The CPC1590 MOSFET driver couples an infrared light emitting diode (LED) with proprietary photovoltaic integrated circuits fabricated with Clare's high-voltage dielectrically isolated BCDMOS technology. The small 8-pin package provides 3750Vrms of input-to-output isolation. The CPC1590 has a blocking voltage rating of 200V, which is paired with a corresponding external MOSFET for a variety of power switching applications. The IC features a typical turn-on time of 40 microseconds (Ton = 40us) and a typical turn-off time of 110 microseconds (Toff = 110us) with a 2.5mA LED input current.

The CPC1590 is an excellent choice for remote switching of DC and low frequency loads where isolated power is unavailable. The device is flexible and allows the user to select a specific MOSFET and external components to satisfy design-switching requirements. Used in conjunction with discrete MOSFETs, the CPC1590 is ideal for programmable control, process control, instrumentation, and power distribution applications while reducing BOM count, board space, and overall design complexity.

Additional information on the CPC1590 can be found in Application Note AN-202 on the Clare website including topics such as external MOSFET selection, switching frequency, different load configurations and over-voltage protection.

Pricing and Availability

The CPC1590 optical gate driver is in full production with a leadtime of 5 weeks.
For OEM quantities of 10KU, CPC1590 pricing is $0.66.

About Clare and IXYS Corporation

Clare, Inc., a leader in the design and manufacture of solid-state relays and high voltage integrated circuits, is a wholly owned subsidiary of IXYS Corporation. IXYS Corporation develops and markets primarily high performance power semiconductor devices that are used in controlling and converting electrical power efficiently in power systems for the telecommunication internet infrastructure, motor drives, medical systems, solar energy, wind energy, electrical generators and transportation. IXYS also serves its markets with a combination of digital and analog integrated circuits, RF power products and power subsystems. Additional information about Clare and IXYS may be found at www.clare.com and www.ixys.com, or by sending an email to info@clare.com for quarter ended September 30, 2009. The Company undertakes no obligation to publicly release the results of any revisions to these forward-looking statements.

Please contact your local sales representative:
http://www.clare.com/home/pages.nsf/locate.rep


More from Electronic Components & Devices