MORStop™ Tilt-Brake Prevents Runaway Drum Rotations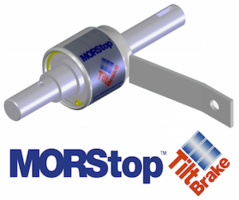 The unique MORStop™ Tilt-Brake automatically stops and holds the drum at every tilt angle! It is the dependable, compact anti-backdrive device that functions smoothly and quietly in both directions. Without the MORStop Tilt-Brake, a heavy unbalanced drum may tilt/rotate forcefully out of control – requiring operators to manually lock the pull-chain or hand crank to prevent unwanted drum rotation. The MORStop Tilt-Brake eliminates this need, enhancing productivity and safety.
The MORStop Tilt-Brake option is available on many models of Morse Drum Karriers and also fits any manual tilt product using a Morse-style gear block.
Morse - "The Specialist In Drum Handling" – has originated most drum handling advancements world-wide, and offers the widest product line of over 100 items, plus custom engineered versions, and provides users with the most extensive and expert dealer support network. www.MorseDrum.com
Manufacturing Co., Inc.
727 West Manlius St. PO Box 518
East Syracuse, NY 13057-0518
315-437-8475
Fax 315-437-1029