Morris Technologies Builds Prosthetic Foot to Help Someone Climb to New Heights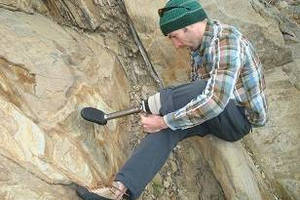 Imagine opening a gift on Christmas morning and finding a body part in the box. This happened to CJ Howard in 2010...well, sort of.

CJ was a normal, active teenager in 2002. He liked to snowboard, run, hike, cycle, and swim. And then one day he was diagnosed with osteogenic sarcoma, a form of cancer that led to part of his leg being amputated just below the knee. He was 18 years old.

CJ was fitted with a prosthetic and adjusted to his new life. "As a collegiate runner who had battled many injuries to keep my running career alive," says CJ, "I saw this as just another injury. Several years (after the amputation) I set the world record for the 5K, 10K, and half-marathon."

And then in 2008 he met Mandy Ott, a mechanical engineer working for a large aerospace company and an avid climbing enthusiast. CJ had tried climbing one time in high school before he met Mandy, and he wasn't going to be deterred from joining her in her avocation. So, he laced up his climbing shoes - one on his right foot, the other on his prosthetic - and hit the mountains with her.

Everything worked just fine, except for one thing: the prosthetic was quickly ruining the expensive climbing shoe on that foot. CJ would have the shoes resoled, but eventually would have to purchase new pairs.

This problem got Mandy to thinking. As an engineer, she was a natural problem solver and turned the conundrum into a project. Using a CAD program, she got with CJ, and the two worked together to design a custom climbing foot to CJ's exact specifications.

Around this time, Mandy was working with Tim Warden at Morris Technologies. She was aware of the advantages of direct metal laser sintering (DMLS) and that the folks at MTI were experts in the technology. A custom foot was an ideal "fit" for additive metal manufacturing.

So, using Mandy's CAD model, Morris Technologies built a titanium foot and ankle/calf piece using DMLS. Mandy took the new prosthetic and had the foot coated with rubber. This would be CJ's permanent climbing foot.

CJ had taken part in the design of the foot, but by Christmas 2010, he had forgotten about it. Then came Christmas morning.

"Giving it to him on Christmas morning was a RIOT," says Mandy. "He had no idea. Ever since, he's been showing it off to everyone, including his prosthetist and the orthopedic surgeon who cut off his leg. Everyone has been asking me how I got it. I've never had to explain DMLS to so many interested parties in my life!"

"I was completely shocked," adds CJ. "When she handed me the box with the foot I was totally expecting to pull out a [climbing] rope, not a shiny, new climbing foot. Definitely a one-of-a-kind gift!"

The new foot has advantages for CJ. Mandy reports that "the stiffness keeps him from slipping (unlike what he was using before), and the size helps him with crack climbing (and keeps him from getting stuck so easily)."

"I think, ideally, one day we'll design a couple more (prosthetics) for different styles of climbing," says CJ.

For CJ, climbing is a passion that he says has become a "sinister obsession."

There is some bad news, though. Although CJ has resumed a normal life, he admits that he "still can't dance! But at least now I can blame my blundering dance skills and lack of rhythm on my left foot."

But the good news is great: CJ is nine years cancer-free April 2012.

For more information on Morris Technologies, visit www.morristech.com.


Related