Morris Technologies Acquires Five-Axis Mill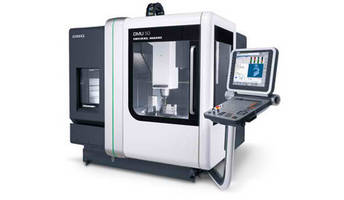 CINCINNATI, OH - Morris Technologies, Inc. (MTI), a service provider specializing in additive manufacturing and CNC machining, has acquired a DMU 50 five-axis machine from Mori Seiki. The DMU 50 machine is a state-of-the-art mill that features a performance-enhancing NC swivel rotary table, high rigidity, and a large bearing diameter in the B- and C-axis. The equipment is the latest addition to MTI's world-class machine shop.

A five-axis machining center utilizes two axes in addition to the standard three axes (X/Y/Z), so the tool can move along five different planes. This allows the part to be fixtured just once as the tools and the table rotate according to the CNC specifications. The result is parts that are produced with high precision and detail and tight tolerances.

Morris Technologies will utilize the DMU 50 machine to produce complex parts for the medical, aerospace, and other industries. The new mill enhances the company's machining capabilities, which also includes EDM and Swiss turn.

Adam Collins, machining manager, believes this acquisition takes Morris Technologies to a new level. "Until now, we've had a very complete shop, but the one missing piece of the puzzle was a five-axis (machine)," says Collins. "We now have a facility that rivals others in the industry. This is really exciting for us."

As the global leader in additive metal manufacturing, Morris Technologies also will use the five-axis machine to complement the company's extensive additive manufacturing capabilities.

About Morris Technologies, Inc.

Based in Cincinnati, Ohio, Morris Technologies, Inc. (MTI) has been on the cutting edge of manufacturing technologies since 1994. MTI's heavy investment in research and development has enabled them to evolve into the global leader in additive-metal manufacturing processes and advance technologies by offering new materials and developing new hardware. MTI also specializes in end-to-end product development, from engineering to prototyping to low-volume manufacturing.

For more information about Morris Technologies, visit www.morristech.com or contact information@morristech.com.


More from Waste Management & Waste Handling Equipment