Morey's MC-4 and MC-4+ Telematics Devices Now Withstand Rugged Environments and Conditions
Press Release Summary: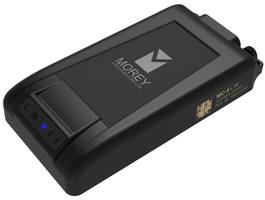 MC-4 and MC-4+ Telematic Devices enable fleet managers to analyze and collect data using Bluetooth, GPS and 4G LTE technology and untethered dead reckoning for continuous positioning. Unit 's plug-and-play deployment program simplifies installation, customize the datasets. Unit offer 360° device mobility and detect idle state of vehicles, collects vehicles angular velocity and linear acceleration data. The devices come with mechanical enclosure sealed to IP69K.
---
Original Press Release:
Morey Launches New IoT Hardware Platform for Fleet Data Collection in Rugged Environments
The MC-4 and MC-4+ help construction, agriculture and commercial fleet managers comply with the FMCSA' s ELD mandate and streamline operations with edge computing capabilities
On February 13, 2018, Morey, an electronics and telematics manufacturing company, announced the launch of its newest telematics devices, the MC-4 and MC-4+ – designed to log and store diagnostic, power and locational data for single and mixed fleets.
With the MC-4, fleet managers can remotely access equipment performance data from across the globe using Bluetooth, GPS and 4G LTE technology and untethered dead reckoning for continuous positioning. The device contains a plug-and-play deployment program allowing users to easily install the device, customize the datasets they want to receive, and begin receiving data immediately. It has robust vehicle and machine interface capabilities and can be installed on any Class I-VIII vehicles.
The MC-4 device also acts as an edge computing device with the ability to analyze data from the vehicle's ancillary accessories as it's generated. It can then communicate anomalies directly to the data center, streamlining the decision-making process for fleet managers and minimizing equipment downtime.
For fleets required to track and share records of duty status data under the Federal Motor Carrier Safety Administration's Electronic Logging Device (ELD) mandate, the MC-4 can be used to maintain compliance with the new rule, as it allows drivers to electronically log hours-of-service and send them directly to the fleet managers.
Other key features include:
Inertial measurement unit collects vehicles' angular velocity and linear acceleration data
Six Degrees of Freedom allows full, 360-degree device mobility
 Engine state detection alerts data centers of any potential engine malfunctions
Automatic event or customizable event reporting provides consolidated data reports on specific focus areas
Idle state detects when the vehicle is in an idle or active state
Scan tool detect monitors vehicles' emissions, performance and other functions
4G LTE CAT 1 Bluetooth connectivity creates a unique gateway with worldwide reach
"Our goal in developing the MC-4 was to make it as easy as possible for managers to collect and analyze data from their fleets in real time," says Ryne DeBoer, Vice President, Morey. "Understanding the location, miles traveled, necessary engine maintenance and more can be vital to saving time and money for managers. The MC-4 can help fleet managers find the links between data collection and efficiency so they can spend time focusing on other business initiatives."
Morey will also offer the MC-4+, which enhances the MC-4's features with a rechargeable backup battery and a more robust mechanical enclosure sealed to IP69K. Designed to withstand the most rugged environments and conditions, like extreme flooding, the MC-4+'s internal battery allows the device to collect data whether the vehicle's assets are powered on or not, for more than a week.
Whether overseeing construction, agriculture or commercial fleets, the MC-4 and MC-4+ are the only telematic devices managers need to enable communication between backend systems and assets.
"Our customers require versatile products that easily integrate with existing devices," said Willy Schlacks, CEO at MachineLink. "Not only do the MC-4 and MC-4+ provide this flexibility, but also advanced features, like 4G LTE connectivity, that will better prepare our customers to respond to the future of data transmission and analysis. These features, combined with Morey's team of experts, make the MC-4 and MC-4+ the perfect flagship product to meet our customers' unique needs."
Like all of Morey's products, the MC-4 and MC-4+ are designed, developed, manufactured and distributed from the Morey Corporation headquarters in Woodridge, Ill.
For more information about Morey's MC-4 and MC-4+, visit: http://www.moreycorp.com/expertise/technologies/wireless-devices/mc-4-series/.
About Morey
Morey is a global leader in developing and manufacturing transformative technologies in the smart connectivity and energy efficiency electronics sectors. Its products and solutions serve a wide variety of industries and markets including automotive and commercial vehicle, con-agriculture and off-road, and industrial. By combining engineering, manufacturing and business services, Morey serves as a scalable partner for industry-leading global OEMs, tier ones and technology firms — providing the expertise and innovation needed to connect assets, integrate within the IoT, increase energy efficiency and drive strategic business growth.
Media Contact:
Sydney DeLosh, Walker Sands Communications
Related