Moreng Metal has a New 2014 AMADA HG1303 Press Brake Machine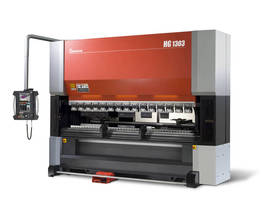 2014 AMADA HG1303 press brake



Moreng Metal has a new and innovative HG 1303 press brake that comes with visual LCD touch screen technology for storage of all programs & a tool library to assist operators in the quick setup of complicated parts.  Overnight batch processing allows bending analysis to be run in a lights-out environment, giving our shop a 24.7 operation advantage. This brake can handle a full range of material thicknesses & bend lengths.  Moreng Metal can achieve maximum throughput by reducing the bending setup time using offline programming through Dr. Abe bend software. 



With 13 AMADA brakes in operation at Moreng Metal Products, the AMAGA HG1303 will be the 1st step to upgrading their forming capabilities throughout the department.



New renovations in the late 1990's brought Moreng Metal Products to 60,000 sq ft as they began manufacturing entrances for the elevator industry, along with security carts (laptop computer cabinets/Projectors) battery racks & computer chip processing machinery.



Over the past decade, Moreng Metal Products has expanded their customer base to very new & exciting sectors. Included in the developing industries are Renewable Energy (Solar), the Data Center Industry (I-Fortress), Boiler & Bio-Fuel, which will provide Moreng with a diverse customer base for decades to come. The upgrades Moreng Metal Products implemented in the 2000's included an expansion of the paint line along with advanced powder coating capabilities. Along with Sheet Metal's addition of the new state of the art Amada 2510 NT Punch Press, the welding department made advancements to attract large volume work, which now includes 5 robotic welding cells.



After 110 years of service going back 4 generations, Moreng Metal Products consistently provides quality improvements in all departments. Decades of experience & expertise from our veteran management & engineering team, mixed with the new generation of technologically savvy employees has resulted in creative ideas & motivated employees in the always changing manufacturing industry. Through hard work and commitment we will continue to meet our customer's short lead times with competitive pricing, while providing the best customer service in the industry.

More from Machinery & Machining Tools