More Commonality, Higher Performance. New Cashco Actuator Offers Greater Adaptability.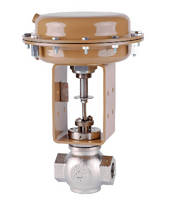 Ellsworth, Kansas, USA - Designed for a new level of conformity, the new C27 actuator release from Cashco, Inc. promises to be a win/win product for both the manufacturer and its customers.

"Basically, the C27 actuator is the first of a new line of actuators that Cashco is in the process of introducing, which can be coupled to any one of several body assemblies or valve body models," says Cole Worrell, product engineer for Cashco, Inc. "This not only improves machining and assembly efficiencies for us as a manufacturer, but it helps reduce inventory levels at all supply levels. That should translate into lower costs for us, as well as our customers."

Customers will also benefit from the improved characteristics that the C27 actuator offers, including higher bench ranges that allow for an increase in pressure drop capacities and an increase in flow capacities. Because the stem and yoke are shorter in the new actuator design, the valve assembly is also more compact, which means the unit will require less space when installed in a gas, oil, water, steam or corrosive liquid transfer system.

"In essence, the new design allows us to pressurize the actuator a little higher and extend the stem a little farther into the valve body to get the plug away from the seat," Worrell explains. "This permits more flow through the valve without the need for modifications in the valve body itself ... which means that customers won't see any change in the way it fits into the piping system."

According to Worrell, future actuators, which follow the C27, will also have more commonality between them; plus, each actuator - with only minor modifications in the stem - will be designed to fit more than one valve type.

As an example, the C27 actuator, as the first in the series, has already been fitted to the Model 2296 - an economical stainless steel or bronze control valve with cryogenic capability, as well as Quick-Change Trim, equal or linear trim characteristic, and 316 or 316L SST internals - and the Model 987, with a slight modification of the stem length. This same actuator will also be used to replace the existing actuator on the Model 2266 valve in 1 ½- and 2-inch sizes and be designated as a Model 2296HF, or a 2296 "High Flow" valve.

"One of the greatest benefits is that it allows us and our customers to use a single actuator design for multiple products," Worrell concludes, "and this is just our first step."

Cashco Inc. headquartered in Ellsworth, Kansas, has been meeting the needs of American industry since 1920 with a broad line of throttling rotary and linear control valves, pressure reducing regulators and back pressure regulators in a wide range of sizes. To learn more about Cashco valves or the new C27 actuator release, call 785-472-4461 or view the full line of products at www.cashco.com.

More from Communication Systems & Equipment