Monorail Transport System automates warehouse operations.
Press Release Summary: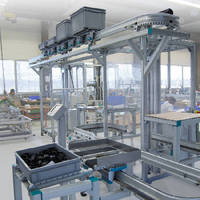 With max speed of 30 m/min, fail-proof Montrac System uses self-moving shuttles equipped with belt for automatic loading and unloading. After leaving warehouse with load, shuttle travels to any given area of production department where it deposits items onto shelf or workstation. Shuttles are supported by steady supply of power and never stop along track. Operation is fully electric and, since power is supplied directly through monorail, no cabling is required.
---
Original Press Release:

Montrac Presents Automated Warehouse Integration at LogiMAT 2011



(Derendingen) The monorail transport system Montrac allows to create a link between warehouse and production, for instance. This application, interesting for companies across several industries, will be presented by the Swiss manufacturer at the upcoming LogiMAT in Stuttgart, Hall 3, Booth 171.

The self-moving shuttles, equipped with a belt for automatic loading and unloading, travel between the warehouse and production area according to the instructions of the central control system, running on a monorail line at a maximum speed of 30 m per minute. When reaching the warehouse, each shuttle is given a task and a destination, just like a taxi. After leaving the warehouse with its load, the shuttle travels to any given area of the production department, where it deposits the required items onto a shelf or workstation.

Back to the warehouse, the shuttle - fully unloaded or carrying an empty container - can be handled at an automated warehouse, an intermediate shelf or a manual workstation to be prepared for a new task.

Proven experience and in-house production

To manufacture the shuttles with integrated belt conveyor, the Swiss company leverages its longstanding experience and used components produced in house, as the belt conveyors are also a Montech product. "Each year, we manufacture over 1,500 shuttles and sell them all around the world," says Alessandro Sibilia, General Manager Montrac. According to Sibilia, this results not only into highly competitive prices, but also a warranty of top quality. "The efficiency of operations in all company areas, especially intralogistics, is more and more critical," adds Sibilia. However, this requires the full flexibility of the transport system, in order to meet customer requirements and to provide users with the highest possible flexibility.

Montrac delivers such flexibility from different standpoints, such as future extensions or modifications to the plant, adapting to available space, modularity and compatibility of components.

Reliability and cost optimization

Montrac is a reliable fail-proof transport system, where each shuttle can be easily removed by seizing it from its handgrip, without the need to stop the plant. Supported by a steady supply of power, the shuttles never stop along the track. The only active components of Montrac are shuttles and switches. The shuttle is designed so that no maintenance is normally required, while the monorail is a failure-free passive component. Sibilia: "Montrac is 100% available and avoids downtime in production, which is a typical inconvenient of belt conveyors, instead."

Also in terms of costs, Montrac is a model of optimization, explains Sibilia. Montrac operation is fully electric, so that all pneumatic components and connections are eliminated. Power is supplied directly through the monorail, therefore the system requires no cabling, except for minimal wiring in specific applications. The control system can thus be minimized or totally eliminated.

Montech AG

Montech AG markets basic modular components that automate demanding production and logistics processes. In addition to conventional conveyor belts, automation components and the Quick-Set profile system, the range of products also includes the Montrac transport system. Montrac is an intelligent transport system for networking industrial production and logistics processes. Founded in 1963, the company is based in Switzerland and stands for innovation in the automation industry.

More information

Montech AG

Elke Manthei

Gewerbestrasse 12

CH-4552 Derendingen

Phone: +41 (0)32 6815542

Fax: +41 (0)32 6821977

E-Mail: elke.manthei@montech.com

www.montech.com

More from Architectural & Civil Engineering Products