Monorail operates from overhead tracks.
Press Release Summary: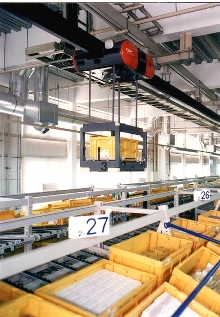 Space Carrier monorail handles loads up to 110 lb and travels at speeds up to 574 fpm. It is available with conveyor, cage or clamp attachments to handle a variety of load types. Modular monorail track can be modified or expanded, and carriers can be added to system as needed. System integrates with automated storage buffers, picks up boxes or totes, and transports them to picking stations, shelves, conveyors and flow racks.
---
Original Press Release:
ESKAY Space Carrier Monorail Automates Replenishment For High-Turnover Items

With distribution centers nationwide having to adjust to smaller, more frequent customer orders, ESKAY's Space Carrier (SPC) electrified monorail system provides an effective solution to automate replenishment of high-turnover items. This prevents stock-outs and eliminates lost time looking for items, helping distribution centers get their orders out the door quickly and accurately.

The Space Carrier monorail system integrates with automated storage buffers such as the mini load and MSS II high-speed box buffer, picking up boxes or totes and transporting them to picking stations, shelves, conveyors and flow racks. The system operates from overhead tracks in a loop or shuttle configuration to conserve valuable floor space.

"Automated replenishment using Space Carriers ensures you don't run out those high-frequency items," said Kevin Thuet, ESKAY's Director of Advanced Applications. "When the inventory count at the pick face drops below a pre-determined level, the inventory control system orders replenishment stock, which the SPCs then deliver and automatically replenish the flow rack lane."

ESKAY offers two Space Carrier models able to handle loads up to 66 lbs. and 110 lbs., respectively. Both travel at speeds up to 574 ft./min. The precision positioning capability of the ESKAY Space Carrier makes it ideal for use with automated workstations. Space Carriers are available with conveyor, cage, or clamp attachments to handle a variety of load types. Each Space Carrier features on-board microprocessor control, with no complex programming functions required. The modular monorail track can be easily modified or expanded, and Space Carriers can be added to the system as needed to increase capacity.

Space Carriers can automate replenishment in both distribution and manufacturing applications. Hoshizaki, which builds commercial ice-making machines near Atlanta, uses the system to replenish its assembly line. Space Carriers deliver component kits from a mini load buffer in Just-In-Time waves to multiple assembly line work areas for dispersal to their workstations. The system has improved accuracy and eliminated the previous clutter on the factory floor, and it has also opened up space for additional assembly stations.

Shiseido, a manufacturing of premium cosmetics in Japan, uses Space Carriers at its central distribution center to cut lead times and improve customer service while responding quickly to local market preferences. A network of seven Space Carriers automatically replenishes high-turnover items from a mini load buffer to flow racks for picking.

At a Daimaru Fuji distribution center, Space Carriers automatically replenish flow racks for near continuous order picking. There are no lift trucks or hand carts on the warehouse floor, creating a safer and more worker-friendly environment.

ESKAY Corporation, a Daifuku Company, designs, sells, installs, and supports a complete line of world-class logistics systems for automated material handling in factory, distribution, and cleanroom environments. ESKAY's full range of advanced-technology products for factory/distribution automation includes conveyors, sortation systems, transport vehicles, order-picking systems, storage buffers, and real-time warehouse management software (WMS). For cleanroom applications, ESKAY offers a variety of stockers, lifters, and interbay/intrabay transport systems for 200mm and advanced 300mm wafer fabs, along with Liquid Crystal Display (LCD), Flat Panel Display (FPD) and other cleanroom applications.

ESKAY is ranked by Utah Business as one of the state's top 25 companies in revenue growth and is among Utah's top 100 fastest growing companies.