Monolithics with More than 20 Years In-Service Success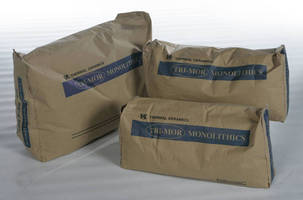 Thermal Ceramics, manufacturer of world renowned high temperature insulation, is excited to introduce the acclaimed Tri-Mor® line of monolithics for the Aluminum, Power and Iron and Steel markets. The Tri-Mor monolithic line of products benefits the furnace or boiler with improved lining life and reduced energy consumption. The Tri-Mor products feature high strength, higher densities and easier installation. The Tri-Mor product line is made up of:
Tri-Mor Morflo®
Tri-Mor Higun®
Tri-Mor Plascast(TM)
Tri-Mor Plasgun(TM)
Tri-Mor Alcast®
Tri-Mor Albond®
Tri-Mor Hicast® Super

To learn more about these proven Tri-Mor products contact Thermal Ceramics, northamerica@thermalceramics.com.

Thermal Ceramics designs, manufactures and installs a wide variety of engineering solutions using our world renowned insulation products. These solutions are used by our clients to dramatically reduce energy consumption in their processes and in many applications reduce damaging emissions to the environment. Thermal Ceramics is a world leader in the production of Fiber, Insulating Firebricks (IFBs), and Monolithics. We operate in over 30 countries around the world, employing more than 3000 people.

More from Cleaning Products & Equipment