Monolithic Ceramic Capacitors meet automotive market needs.
Press Release Summary: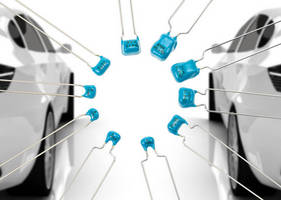 Comprising radial, lead (Pb)- and halogen-free package, monolithic ceramic capacitor (MLCCs) RCE Series complies with AEC-Q200 requirement and ISO7636-2 surge test. Sizes range from 3.6 x 3.5 mm to 7.7 x 13 mm, rated voltage is 25 Vdc–1 kVdc, capacitance range is 1.0 pF to 22 µF, and operating range is -55 to +125°C. Able to withstand bending stress of PCBs, series smoothes power and removes noise while simultaneously protecting sensor against surges.
---
Original Press Release:

Monolithic Ceramic Capacitors Developed for Automotive Market



Murata America's RCE Series Delivers Advanced Performance in a Lead-Free, Miniaturized Package



Smyrna, GA — Murata Americas today announced the launch of its RCE Series, a monolithic ceramic capacitor (MLCC) line developed to meet the stringent needs of the automotive market. The new radial, lead and halogen free solution complies with both the AEC-Q200 requirement and the ISO7636-2 surge test.  Measuring just 3.6x3.5-7.7x13mm, the series has a rated voltage of DC25V – 1kV, a capacitance range of 1.0pF - 22µF, and an operating temperature range of -55°C to125°C.



Today's vehicle has many electronic control units that enable absolute precision.  Given that, motor devices are required to be increasingly compact with low EMI noise.  The RCE Series achieves that by smoothing power and removing noise while simultaneously protecting the sensor against surges.



"Because of Murata's expansive and deep understanding of the automotive market, we are able to anticipate the needs of engineers in this always-evolving industry," said Frank Yang, Application Engineer, and Murata Americas.  "With the RCE Series, we created an advanced, feature-rich and cost conscious solution for harsh operating environments. This series is able to withstand high bending stress of printed circuit boards and its leads can also be welded and custom-formed."



Samples of the RCE series are available starting at $0.06 with an approximate lead time of 10 weeks.  More information can be found at www.murataamericas.com.



About Murata Americas (www.murataamericas.com)

Murata Americas is the group of Murata companies located in North and South America. The regional HQ of Murata Americas is Murata Electronics North America, Inc., a wholly owned subsidiary of Murata Manufacturing Co., Ltd., whose global headquarters are in Kyoto, Japan. Established in 1944, Murata Manufacturing is a worldwide leader in research, design, manufacture and sale of ceramic based passive electronic components, power supply and wireless module solutions. With annual revenues in excess of $7 billion dollars, Murata is committed to the environmentally conscious development and stable supply of advanced electronic materials, leading edge electronic components, and multi-functional, high-density modules. Products include: monolithic ceramic capacitors, polymer aluminum electrolytic capacitors, electrical double-layer capacitor (EDLC), noise suppression products/EMI suppression filters, inductors, resistor products, resonators, filters, RF components, communication and wireless module solutions, sensors, thermistors, DC-DC converters, AC-DC power supplies, sound components, piezo actuators, micromechatronics products, ceramic applied products, and RFID solutions. Murata's products are found in a wide range of applications including consumer, mobile communications, computers and networking equipment, automotive electronics, advanced metering equipment, digital home electronics, lighting and illumination, and healthcare devices. Murata has employees and manufacturing facilities throughout the world.



Amy Talley

Jefferson Communications

atalley@jeffersoncomm.com

T: 703.323.8939

C: 703.395.5143

F: 703.822.7104

www.jeffersoncomm.com

More from Electronic Components & Devices