Monocular Zoom Microscope uses coaxial light for inspection.
Press Release Summary: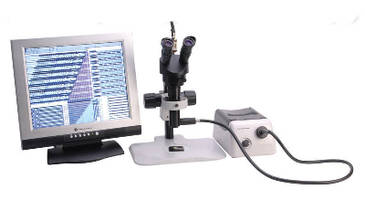 To expand clarity when viewing highly reflective objects, Monocular Zoom Microscope uses coaxial illumination, enabling operators to record any contamination, fine scratches, or other tiny flaws. Unit includes 1.3 in. color CCD camera, BNC video cable, and 15 in. color monitor, which allows enlarged images to be observed on screen and through eyepiece simultaneously. Magnification range is 10-63x through binocular eyepieces and 15-94x on monitor.
---
Original Press Release:

Coaxial Light Enhances Aven Mono Zoom Scope for Inspection, Testing



ANN ARBOR, MI - Nov. 2, 2009 - Advanced technology overcomes a critical challenge for magnified inspection and testing of shiny surfaces - how to gain contrast and depth of field.

The Monocular Zoom Microscope uses coaxial illumination to significantly expand clarity when viewing highly reflective objects. This form of lighting is the best-practice choice for sensitive installations. Operators can record any contamination, fine scratches or other tiny flaws much more precisely than with conventional scopes.

For additional efficiency in industrial and scientific applications, the Mono Zoom Microscope System from Aven, Inc. is integrated with a 15-inch color monitor. Enlarged images can be observed on the screen and through the eyepieces simultaneously. A 1/3" color CCD camera and BNC video cable are included.

This system from a global supplier of high-performance instruments is designed for quality assurance and troubleshooting checks of LCDs, LEDs, silicon wafers, polished samples and printed materials. It's also ideal for examination of fluids, medical samples or biological specimens in laboratory and academic settings.

Coaxial lighting delivers sharpest visibility and highest image quality because light comes from the precise direction of the lens, traveling along the same axis as the sample being observed. Uniform lighting across the field of view eliminates shadows and minimizes reflected glare.

Magnification range of the Aven Mono Zoom is 10x to 63x through the binocular eyepieces and 15x to 94 x on the monitor.

The durable trinocular zoom body is mounted on a 76mm post stand, which allows a working distance of 35mm to 145mm. The Michigan-based firm also offers two auxiliary lenses and a CCD coupler for customization.

For more information, call Aven at (734) 973-0099 or visit www.aveninc.com

Aven will exhibit at the Productronica 2009 international trade fair in Munich, Germany, from Nov. 10-13, 2009.

Aven, Inc. is an international source of high-performance precision tools and optical inspection systems. Product lines include alignment tools, video inspection systems, magnifiers, precision knives, pliers and cutters, illumination equipment and other workbench solutions.

An electronics innovator since 1983, Aven is located in a high-tech corridor of Southeast Michigan and is the parent company SharpVue, which designs and manufactures integrated digital microscope technology.

More from Printing & Duplicating Equipment