Monitoring System offers secure World Wide Web access.
Press Release Summary: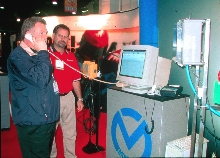 ExactAire system monitors operation of dehumidification, cooling, and heating equipment on job site, and alerts users of control failure. Capable of monitoring dew point, surface temperature, and relative humidity, system permits users to set desired parameters. Customizable alert messages are deliverable via pager, fax, e-mail, PCS, or telephone. Messages include alert condition and location, make, model, and serial number of involved unit.
---
Original Press Release:
Munters' New Exactaire System Monitors HVAC Equipment On Job Sites, Issues System Failures Alerts
Munters introduces the ExactAire monitoring system that monitors the operation of dehumidification, cooling and heating equipment on the job site, and alerts the customer of control failure. "The ExactAire system can be activated with any climate control equipment and can monitor several different environmental components such as dew point, surface temperature and relative humidity," said Mickey Lee, technical services manager for Moisture Control Services (MCS). "The system's flexibility allows customers to set desired parameters to cycle the equipment on and off to maintain and verify ideal conditions. Munters is the only air treatment company offering this technology." ExactAire is completely customizable, allowing the customer to choose whether alert messages are delivered via pager, fax, e-mail, PCS or telephone. These detailed messages include the alert condition, and the location, make, model and serial number of the unit involved. Powered by the North American AMPS (advanced mobile phone system), ExactAire can be utilized throughout North America. The system offers secure World Wide Web access to configure equipment and set up the desired response chain. "ExactAire provides users with the secure knowledge that their climate control unit is operating efficiently and effectively, and that space conditions are maintained," added Lee. "Customers can determine all of the set points they desire, giving them more control of the conditions delivered." The system features a variety of benefits for customers. For example, the customer can be alerted to a dehumidifier problem before the blast turns. An ExactAire notification also will alert customers if the system is not holding the appropriate temperature. Often no one realizes a generator has failed until the damage has already occurred. A battery backup enables ExactAire to send a "power failure" message if the generator shuts down or if there is any loss of power. In tank applications, the system will relay a message when the surface temperature is approaching the dew point, or if the tank is out of the humidity range specified. In such cases, timely repairs can be made before desired conditions in the controlled space are lost. When a Munters technician arrives on site, a "technician arrived" message appears. The system includes a daily self-monitoring program that transmits equipment operation differentials into a historical database for data collection. There also is a cost benefit. Because the unit is modulated on and off to maintain conditions, fuel savings will be realized. Headquartered in Glendale Heights, Ill., Munters Moisture Control Services is North America's largest water damage recovery/temporary humidity control company. It provides emergency services throughout the United States and Canada. Munters, based in Amesbury, Mass., is the world's leading air treatment company manufacturing products that humidify,dehumidify, control emissions and dry water damaged environments.
More from Communication Systems & Equipment