Monitoring Device connects cardiac patients with physicians.
Press Release Summary: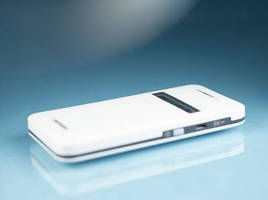 By keeping pacemaker, implantable cardioverter defibrillator, and insertable cardiac monitor patients connected to their physician remotely, CardioMessenger Smart enables efficient care management from anywhere. Portable monitoring device provides secure, fully automatic transmission of vital information from cardiac implant to physician via BIOTRONIK Home Monitoring®. This includes daily, automatic reports and fully customizable alerts that can be programmed to physician's specifications.
---
Original Press Release:

BIOTRONIK Launches CardioMessenger Smart Portable Device for Pacemaker and ICD Patients



Ultra-Portable Device Connects Patients with Physicians and Provides Daily Data Transmissions



LAKE OSWEGO, Ore., – BIOTRONIK, a global leader in cardio- and endovascular medical technology, today announced the launch of CardioMessenger Smart in the United States. CardioMessenger Smart is a portable monitoring device, about the size of a modern smartphone, that keeps pacemaker, implantable cardioverter defibrillator (ICD), and insertable cardiac monitor (ICM) patients connected to their physician remotely, enabling more efficient care management--anywhere in the world.



CardioMessenger Smart provides secure, fully automatic transmission of vital information from a patient's cardiac implant to their physician via BIOTRONIK Home Monitoring®. This includes daily, automatic reports and fully customizable alerts that can be programmed to the physician's specifications. As demonstrated by the TRUST(1), COMPAS(2) and IN-TIME(3) clinical studies, Home Monitoring can significantly reduce hospitalization, stroke and mortality. CardioMessenger Smart recently received Food and Drug Administration approval.



"The clinical and economic benefits of remote monitoring have been well established over a decade of clinical studies," stated Dr. Niraj Varma, in reference to the 2015 Heart Rhythm Society Expert Consensus Statement on remote monitoring. "But these benefits are only realized if patients consistently use the technology. When we make the remote monitoring process easy for patients, we increase the likelihood of patient adherence, which has been demonstrated to improve health outcomes." Varma was lead investigator for the landmark TRUST Trial, which laid the foundation for the guidelines, and co-chair of the HRS committee.



The portability of CardioMessenger Smart helps ensure patient compliance and the consistent transmission of data necessary for physicians to identify and prevent potential cardiac events. CardioMessenger Smart is fully automatic, providing daily reports of cardiac activity via worldwide cellular networks to physicians without intervention from the patient.



"BIOTRONIK pioneered modern wireless remote monitoring technologies in the year 2000 and we continue to invest in advancements that make life more enjoyable for patients living with cardiac conditions," said Marlou Janssen, President, BIOTRONIK, Inc. "The TRUST study demonstrated that BIOTRONIK Home Monitoring delivers greater than 90% reliability(1) of daily remote monitoring transmissions, providing more complete data for physicians to use in optimizing patient care. CardioMessenger Smart is BIOTRONIK's latest Home Monitoring innovation that provides market-leading performance."



About BIOTRONIK

One of the world's leading manufacturers of cardio- and endovascular medical devices, BIOTRONIK is headquartered in Berlin, Germany, and represented in over 100 countries. Several million patients have received BIOTRONIK implants designed to save and improve the quality of their lives, or have been treated with BIOTRONIK coronary and peripheral vascular intervention products. Since its development of the first German pacemaker in 1963, BIOTRONIK has engineered many innovations, including BIOTRONIK Home Monitoring; Pulsar*, the world's first 4 F compatible stent for treating long lesions; Orsiro*, the industry's first hybrid drug-eluting stent; and the world's first implantable cardioverter defibrillators and heart failure therapy devices with ProMRI® technology.



* CAUTION - Investigational device. Limited by United States law to investigational use.



References:

(1) Varma V et al. Circulation. 2010, 122(4).

(2) Mabo P et al. European Heart Journal. 2012, 33.

(3) Hindricks G et al. The Lancet. 2014, 384(9943).



For more information, visit: www.biotronikusa.com

Twitter: @biotronik_US

Facebook: www.facebook.com/BiotronikUS/

LinkedIN: www.linkedin.com/company/biotronik



CONTACT:

US Media Contacts:

Lindsey Stephens

Manager, Marketing Communications

(800) 547-0394, Ext. 8210

(503) 451-8210

lindsey.stephens@biotronik.com



Web Site: http://www.biotronikusa.com

More from Packaging Products & Equipment