Monitoring/Control Systems detect temperature and humidity.
Press Release Summary: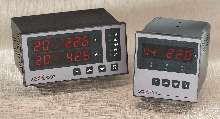 Model LTM-8201C and LTM-8203C provide standalone solutions with up to 32 input points connected on 1 to 3 data lines (Number and configuration of points vary per model). They leverage I-Wire® Network technology to provide multi-drop systems that can be configured without programming. Basic systems consist of panel-mount controller with push-button interface and LED display. They offer RS-485 port and programmable high and low alarms.
---
Original Press Release:

New Standalone System Provides a Low-Cost, Easy-to-Implement Temperature and Humidity Monitoring Solution


September 16, Akron, OH-Azova, Inc., an experienced data acquisition company enters the industrial test and measurement market with an innovative line of temperature and humidity monitoring and control systems. The first products in this line, the LTM-8201C and LTM-8203C, provide low-cost, standalone solutions with up to 32 input points connected on one to three data lines.

Azova systems leverage Dallas Semiconductors I-Wire® Network technology to provide easy to install multi-drop systems that can be instantly configured without any programming. They are ideal choices for a wide variety of industrial applications where climate must be carefully maintained, such as chemical and oil storage, food storage, and food production, as well as diverse agricultural applications including grain silo monitoring and livestock management. Azova's compact standalone systems are particularly well suited to these applications because of their rugged components and their ability to implement multiple sampling locations on a single wire over long distances.

Azova's basic standalone system consists of a panel-mount controller with a simple push-button interface and a LED display. The LTM-8201C provides 16 points of 12-bit temperature monitoring. The slightly larger LTM-8203C provides 32-input points, 16 of which are used for temperature monitoring and 16 provide both temperature and humidity monitoring for a total of 48 data points. Programmable high and low alarms are provided for temperature and humidity that can be used to trigger external equipment with the built-in relay. The LED display automatically scrolls through each channel, or it can be controlled manually. In addition, the units are equipped with a standard RS-485 port (RS-485 to RS-232 converters are available) to enable interfacing with a PC for data logging and control.

Multi-drop networks are easily and inexpensively implemented with Azova systems. A single cable (or a network of cable segments) up to 200 Meters long is attached to the standalone controller. The network can have up to 16 sensors placed at any point on the cable. Unlike other systems that require complex wiring schemes, Azova systems use simple prefabricated splitters to introduce new sensor points. These splitters are easily screwed into compatible cable sections, and specialized sensors are in-turn screwed into the splitter. Each sensor has on-board signal conditioning, a 12-bit digitizer, and a unique 64-bit address by which it is identified on the LTM-8201C/8203C display. The LTM-8201C uses dedicated temperature sensors. The LTM-8203C uses 16 temperature sensors, and 16 combination sensors that provide both a temperature and a humidity reading at each data point.

List price for the LTM-8201C is $395 and List price for the LTM-8203C is $450. Sensors, splitters, and cables are not included. Splitters list for $7 each, temperature only sensors start at $16 each, and combination temperature/humidity sensors list for $69 each.

Complete specifications for the entire line of Azova temperature and humidity monitoring systems is available on their website at azova.com. For more information, or for help with configuring your system, please contact an Azova sales engineer by calling 330-535-8685 or e-mailing sales@azova.com

About Azova: Azova, Inc. is an Ohio-based provider of complete temperature and humidity monitoring and control solutions that deliver sophisticated performance via elegantly simple installations. The company was founded by seasoned engineers with a long history of successful data acquisition product design, development, and manufacturing in the industrial test and measurement market.

I-Wire® Technology is a registered trademark of Dallas Semiconductor.

More from Electrical Equipment & Systems