Monitor Mount LCD provides secondary data access.
Press Release Summary: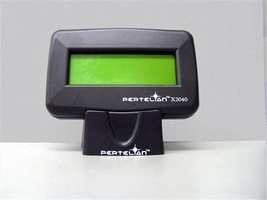 Housed in 4 x 2.5 x ¾ in. plastic cowling, 7 oz Pertelian x2040 external green-backlit 4 x 20 LCD displays incoming e-mail, IMs, RSS feeds, and other background applications while full-screen applications are running. Display captures keyboard input after appropriate keyboard hotkey is pressed. Win/Mac/Linux-ready software includes hardware driver for Windows 2000/XP and managing application, and works with 3 major IM platforms and GAIM multi-platform client.
---
Original Press Release:

External Monitor-Mount LCD for Instant Information



Pertelian x2040 is an external green-backlit 4 x 20 LCD display which
connects to your PC via a USB to provide an instant display for incoming e-mail, IMs, RSS feeds, and other data that needs to be immediately reviewed. Housed in an attractive plastic 4" x 2.5" x ¾" cowling, the integral USB cable is long enough for mounting x2040 on top of a monitor.

It is hard to keep up with e-mail, instant in-office messages, and other background applications while a PC application uses the entire display. Small, lightweight, and inexpensive, Pertelian X2040 answers that problem. Now you can see important information and interact with background applications like Instant Messenger, Real-Time Stock Ticker, Sports Scores, weather information, Teamspeak or media players while full-screen applications are running.

Software provided for the 7oz Pertelian x2040 includes both a hardware driver for Windows 2000/XP and an application that manages the display. Pertelian software runs in the background, collecting information and updating the LCD. Clicking on the system tray icon opens a configuration panel where you can set up the display to personal preference. Using keyboard shortcuts you can cycle through e-mail, instant messaging, RSS feeds, system monitoring, Teamspeak, and more. The application uses keyboard hotkeys, fully configurable to avoid potential conflicts.

Now you can read and reply to IMs using the LCD and keyboard without leaving your application. When you press the appropriate hotkey, the software captures keyboard input while you type your message. It's just like typing in a normal message window, except on the LCD, and the message is sent in the background without interrupting your application. Win/Mac/Linux-ready Pertelian software works with the three major IM platforms as well as the GAIM multi-platform client. It will also check POP3 email, report new messages, fetch RSS feeds, weather, sports scores, and stock prices. The system information plugin is especially detailed, with hundreds of statistics available. Extensive programming documentation assists further individualized software development - customized features can be requested.

Pertelian X2040 is available now from stock at $69.99 each from Saelig Co. Inc. Pittsford NY. info@saelig.com.

Contact Information
email: info@saelig.com
phone / fax: 585-385-1750 / 585-385-1768
web: www.saelig.com


Related