Molex to Showcase Expanded RF/Microwave Product Lines at IMS 2010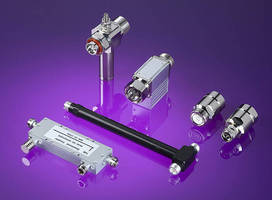 Molex to feature extensive RF and microwave product offerings from subsidiary Tean Telecom & Appliance

LISLE, Ill. - Molex Incorporated announced today that it will feature an expanded line of RF and microwave product offerings at the 2010 IEEE MTT International Microwave Symposium, booth 1517, May 25-27 in Anaheim, CA.

Molex extended its RF and microwave product capabilities with the 2009 acquisition of China-based Zhenjiang Tean Telecom & Appliance Co., Ltd. (Tean), a designer and manufacturer of a variety of radio frequency (RF) and microwave products for the telecom and base station/wireless markets globally.

"The Tean acquisition boosts Molex's share of the developing global market for RF and microwave interconnect systems and gives us a strong presence in the rapidly growing market in China," said Roger Kauffman, Molex RF marketing/sales manager. "Integrating Tean's innovative designs, technical expertise and quality manufacturing processes and Molex's interconnect solutions and global reach, has allowed Molex to strategically expand its global presence and solution offerings."

The Molex-Tean Wireless Solutions include:

o Cable Connectors (Type N, DIN 7/16, EIA) and Panel Mount Connectors (DIN 7/16, Type N)

o Lightning Protection - Quarter-Wave Stubs and Gas Discharge Tube (GDT)

o Jumper Cables and Assemblies - Helical, Conformable, Braided Styles

o Adapters - In-Series and Between-Series

o Microwave Devices, including Splitters and Couplers

Molex's RF products come in a range of sizes and styles for added flexibility in meeting customer applications in a variety of markets, including military, automotive, medical, instrumentation, telecom and wireless.

Kauffman adds: "Tean's geographic location, legacy of innovation and established customer base were a perfect fit for Molex to build a stronger competitive position in the global RF and microwave interconnect market by extending our reach from North America and Europe to the expanding wireless infrastructure markets in India and China."

For more information on Molex's RF and microwave product offerings, please visit www.molex.com/link/rfmicrowavecoax.html.

About Molex Incorporated

Providing more than connectors, Molex delivers complete interconnect solutions for a number of markets including data communications, telecommunications, consumer electronics, industrial, automotive, medical, military, lighting and solar. Established in 1938, the company operates 40 manufacturing locations in 17 countries. The Molex website is www.molex.com. Follow us at www.twitter.com/molexconnectors and watch our videos at www.youtube.com/molexconnectors.


More from Explosives, Armaments, and Weaponry