Molex Meets the Needs of Engineers 4.0 by Releasing its New Micro Fit Product Range on Traceparts.com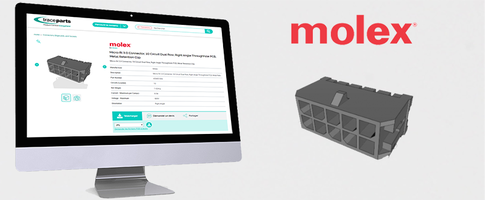 The world-renowned electronics solutions provider offers a wide range of connectors suitable for all types of applications.
Saint-Romain, France – April 02, 2020 – As a leading supplier of electronic components and solutions, Molex sees innovation as a tool for solving its customers' most complex problems.
The Molex Micro-Fit product line is available in multiple circuit sizes and cable lengths for power applications and Board-to-Board, Wire-to-Board, and Wire-to-Wire orientations. The Micro-Fit products will fit into almost any industry such as consumer, medical, sustainable energy, telecommunications/networking, and more!
Molex started out from a simple observation: recent studies have shown that next-generation engineers are more likely to use community-based tools to discover, learn, engage with and use the products offered by manufacturers and distributors.
"Even though we already provide most of the CAD models for our products on our website, we want to engage with a site that brings together communities of engineers and designers.
We saw that TraceParts has one of the largest engineering databases, we decided to publish part of our product range on their website in order to enhance our customer experience in engineering communities", explains Molex's New Product Development Manager Jonathan Thompson.
Molex technical data is now accessible to millions of engineers and designers over the TraceParts platform. Molex also offers access to PCB content on its product range directly from the TraceParts platform product sheets.
"We are delighted to be able to support a major electronics player like Molex on our platform, and we welcome this product range with great enthusiasm. Given the quality of the technical information provided, there is no doubt it will have a big impact on our users," says Gabriel Guigue, TraceParts Managing Director.
About TraceParts
TraceParts is one of the world's leading providers of 3D digital content for engineering. As part of the Trace Group founded in 1990, the company provides powerful web-based solutions, such as CAD part libraries, electronic catalogs and product configurators.
TraceParts offers digital marketing services to help part vendors, 3D printing suppliers, software and computer hardware vendors promote their products and services and generate high-quality B2B sales leads.
The TraceParts portal is available free-of-charge to millions of CAD users worldwide. It provides access to hundreds of supplier catalogs and more than 100 million CAD models and product data-sheets that perfectly meet the specific needs of design, purchasing, manufacturing and maintenance processes and operations.
More from Machinery & Machining Tools