Molex Builds on High Performance RF Solution with Four New Innovative Products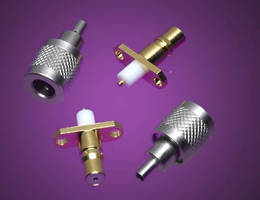 Company showcases its leading RF technologies at IMS 2009

LISLE, Ill. June 4, 2009 - Molex Incorporated (NASDAQ: MOLX and MOLXA) continues to build on its long-standing role of developing cutting edge RF technologies with the announcement of four new innovative products. These additions to Molex's already robust family of RF products illustrate the company's commitment to being a leading developer and supplier of standard coaxial connector products, cable assemblies and custom solutions for a wide range of markets including military, automotive, medical, instrumentation, telecom and wireless.

"Our specialty is developing innovative solutions for any RF interconnect challenges, from the most common to complex customized solutions," said Roger Kauffman, marketing and sales manager, Molex Incorporated. "These new products are another example of how Molex is looking to enhance existing products and develop new ones in order to deliver the best RF solution for each customer's specific application."

The new products, which will be on display at the IMS 2009 Show in Boston, June 7-12, booth 721, include:

o Molex QMA Push-Pull Replacement for SMA: This product answers the need for a QMA, push-pull latching connector which will mate with SMA threaded connectors, the most widely used 50 Ohm RF coaxial connectors in the wireless industry. Molex created a mechanical latch on the plug that mates with existing QMA jack design, but will only release when the coupling nut is actuated. Mechanical testing with a pull-force gauge consistently exceeded 80 pounds of axial retention.

o Molex BNC 75 Ohm Connectors: Molex provides a full line of BNC 75 Ohm connector and cable assembly solutions to fulfill the current performance challenges of the broadcast television/video industry. These passive connectors and coaxial cabling encompass a significant portion of a typical broadcast transmission line and allow for sizeable future bandwidth expansion without connector hardware changes.

o Molex SMA Field Receptacle Connectors: Molex SMA connectors are high performance subminiature connectors for microwave frequencies. The threaded coupling insures uniform contact of the outer conductors, which enables the SMA to minimize reflections and attenuation at higher frequencies while providing a high degree of mechanical strength and durability. Designed for high-performance and low-loss to 27 GHz, these connectors are available in various flange configurations for ease of mounting on industry standard hermetic and non-hermetic packages.

o Molex RF Multi-port Solution: Molex's RF multi-port products provide users with a wide variety of options and are ideal when package size, quality high-frequency response or ganged mating is critical. The mating cable multi-port connectors can accommodate a wide range of small standard and custom micro coaxial sizes up to RG178. The products are also are available with the following features:

o Right angle, through-hole PCB and vertical SMT PCB versions

o 50 and 75 Ohms

o Latched and unlatched

o Board-to-board and coaxial cable designs

o Individual connectors and cable assemblies

For more information please visit www.molex.com/link/rfmicrowavecoax.html.

About Molex Incorporated

Molex Incorporated is a 70-year-old global manufacturer of electronic, electrical and fiber optic interconnection systems. Based in Lisle, Illinois, USA, the company operates 45 manufacturing locations in 17 countries. The Molex website is www.molex.com.

More from Machinery & Machining Tools