Molecular Diagnostic System features portable design.
Press Release Summary: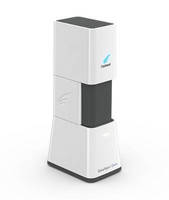 At 9 in. tall and weighing just 2.2 lb, GeneXpert® Omni meets needs of Point of Care market. System runs PCR-based Xpert® cartridges, enabling accurate clinical molecular diagnostic tests to be performed in any near-patient testing environment, including CLIA-waived physician offices, clinics and specialty settings. Wireless and web-enabled, system transmits instrument and test information in real-time. Advanced user interface runs on portable tablet or smartphone.
---
Original Press Release:

World's First "Go-Anywhere" Molecular Diagnostic System Unveiled at AACC



GeneXpert Omni Sets New Standard for Molecular Point of Care Testing



SUNNYVALE, Calif. -- Cepheid (Nasdaq: CPHD) today unveiled the GeneXpert® Omni, a flexible and portable clinical molecular diagnostic system designed to meet the needs of the Point of Care market.  At just 9 inches tall, and weighing just 2.2 pounds, the GeneXpert Omni will run the same high quality PCR-based Xpert® cartridges as Cepheid's existing family of GeneXpert Systems, enabling highly accurate clinical molecular diagnostic tests to be performed in any near-patient testing environment, including CLIA-waived physician offices, clinics and specialty settings.



"Building on the accuracy, speed and ease-of-use that users expect from Cepheid's GeneXpert Systems, the GeneXpert Omni offers an even more streamlined user experience, with an advanced user interface that runs on a portable tablet or smartphone," said John Bishop, Cepheid's Chairman and Chief Executive Officer.  "The GeneXpert Omni is also wireless and web-enabled, setting a new standard in connectivity to transmit instrument and test information in real-time, supporting our customers' goals to cost-effectively improve clinical outcomes and increase patient satisfaction."



"Recognizing the need for faster test results in the Point of Care environment, Cepheid expects to launch even faster Xpert tests in conjunction with the availability of the GeneXpert Omni," said David Persing, M.D., Ph.D., Cepheid's Chief Medical and Technology Officer.  "Compared to an average run-time of about an hour today, we are further optimizing every stage within the cartridge with a goal of delivering test results in as little as 15 minutes, starting with our Xpert Xpress Group A Strep assay."



The GeneXpert Omni is on display at the American Association of Clinical Chemistry (AACC) meeting in Atlanta, Georgia, Booth 2811, from July 28-30, 2015.  The system is expected to be available for commercial Point of Care customers in late 2016.  The first test for the GeneXpert Omni is expected to be Xpert Flu/RSV.



About Cepheid

Based in Sunnyvale, Calif., Cepheid (Nasdaq: CPHD) is a leading molecular diagnostics company that is dedicated to improving healthcare by developing, manufacturing, and marketing accurate yet easy-to-use molecular systems and tests. By automating highly complex and time-consuming manual procedures, the company's solutions deliver a better way for institutions of any size to perform sophisticated genetic testing for organisms and genetic-based diseases. Through its strong molecular biology capabilities, the company is focusing on those applications where accurate, rapid, and actionable test results are needed most, such as managing infectious diseases and cancer. For more information, visit www.cepheid.com.



About GeneXpert Systems and Xpert Tests

With more than 8,900 systems in 182 countries, the GeneXpert System is the world's most popular molecular diagnostics' instrument.  The GeneXpert System's modular configuration means that the system is the most scalable available, offering the ability to perform from one to eighty Xpert tests at the same time.  As a result, the GeneXpert System meets the throughput requirements of customers of all sizes - from lower volume point-of-care settings to higher volume reference laboratories - enabling accurate, fast and cost effective test results.



GeneXpert Systems run proprietary Xpert test cartridges.  The Xpert test menu spans healthcare-associated infections, sexual health, critical infectious disease, and oncology, and today offers 23 tests outside the US, and 17 tests in the US.  More information on the GeneXpert System and the Xpert tests is available on our website at www.cepheid.com. 



For Cepheid Media & Investor Inquiries:

Jacquie Ross, CFA

+1 408-400-8329

corporate.communications@cepheid.com

More from Electrical Equipment & Systems