Molding Machines offer air amplification option.
Press Release Summary: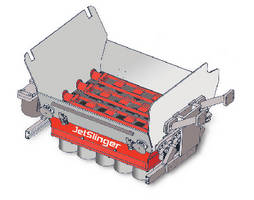 Available as option for Hunter HLM linear-motion machine as well as retrofit for XL automated matchplate molding machines, JetSlinger™ air amplification apparatus is based on Venturi principle that accelerates sand into cope and drag flasks on machines. Impact-assisted, perpendicular flask filling ensures optimized pattern definition with uniform mold hardness and surface integrity. In contrast to conventional blow fill machines, no shroud, seals, or vented flask assemblies are required.
---
Original Press Release:

Hunter Demonstrates its Jetslinger(TM) Air-Amplification Product for Next-Generation Machines at CAST EXPO 2013



Impact-assisted flask filling addition to Hunter's new HLM and successful XL product lines, JetSlinger helps increase mold production up to 300 percent.



SCHAUMBURG, IL — JetSlinger™, the newest add-on to industry innovator Hunter Foundry Machinery Corporation's latest products, helps ensure improved pattern definition, as well as uniformity of mold hardness and surface integrity. The product, which shipped earlier this year, was on display at the recent Cast Expo 2013 in St. Louis. JetSlinger is an available option for the new Hunter HLM linear-motion machine, as well as a retrofit option for the company's established XL automated matchplate molding machines.



The JetSlinger is an air amplification apparatus based on the Venturi principle that accelerates sand into the cope and drag flasks on these Hunter machines.  It creates a powerful vacuum and jet exhaust that draws sand mixtures through an array of nozzle assemblies built into a manifold mounted directly below Fillaerator blades, then slings them into a flask.  It was invented by company president Bill Hunter. The JetSlinger design holds U.S. Patent Number US7819168B2, one of nearly 150 domestic and international patents granted to the company since its founding in 1964.



Key features and benefits of JetSlinger include:

• Impact-assisted flask filling, adjustable for cope and drag

• Venturi-action air amplification for sand mixture dispersion

• Perpendicular flask filling, superior to side blow fill; no shadow effect

• Improved mold production up to 300% on select jobs

• Better pattern definition, uniformity of mold hardness and surface integrity



"In contrast to the conventional blow fill machines, no shroud, seals or vented flask assemblies, nor is the usual attendant maintenance required," according to company president Bill Hunter. "Furthermore, JetSlinger allows foundries far greater flexibility, as well as the access needed to produce various castings with the use of chaplets, ram-up cores and exothermic risers," he adds. 



With its perpendicular fill, this impact-assisted device produces molds more quickly and with substantially improved surface quality, owing to the powered pre-compaction of the sand.  This action results in greater uniformity of mold density and wall hardness, without sacrificing the accessibility and flexibility of a gravity fill machine.  Additionally, the JetSlinger achieves a flask filling operation that compensates for the types of mold quality limitations that are often caused by the flowability of the sand and pattern configuration during the high-pressure squeeze cycle. The basic operation of the JetSlinger is as follows:



1) Sand mixture is loaded into a hopper

2) Hopper gates open

3) Rotating Fillaerator blades aerate the mixture

4) Mixture is delivered into the Venturi action air acceleration manifold

5) Mixture under pressure dispersed (slung) through 20 nozzles into the flask

6) Flask fills with pre-compaction around pattern plate.



ABOUT THE COMPANY

Hunter Foundry Machinery Corporation was founded in 1964 as Hunter Automated Machinery Corporation with the invention of the first gravity-filled automated matchplate molding machine. This established the company's history of innovation and launched the foundry industry into a new industrial revolution. Pioneered by William "Al" Hunter in his garage, the original HMP-10 machine streamlined the laborious metal casting process by offering foundries unimagined new production capabilities, producing as many molds in one hour as most had been able to produce in an entire day. As industry demands grew Hunter responded with advanced solutions such as automated mold handling equipment and coresetters.



Now in its 50th year, Hunter Foundry Machine Corporation's inventions have earned nearly 150 patents around the world. With more than 1,800 molding machines and mold handling systems installed around the world, Hunter's sales and service reach extends from its manufacturing sites in North America, South America and China through its offices in the U.S., Europe, Brazil, India and Shanghai to every corner of the globe. Sales and technical support, as well as the company's $12 million parts inventory, serve to maintain each machine's original production capability, as well as Hunter's preeminence in the world market.



FOR MORE INFORMATION PLEASE CONTACT: 

HUNTER FOUNDRY MACHINERY CORPORATION

2222 Hammond Drive - Schaumburg, Illinois 60196-1094 - USA

Phone:  +1 847 397 5136

info@hunterfoundry.com

www.hunterfoundry.com

Attention:  Bill Hunter, CEO

Related