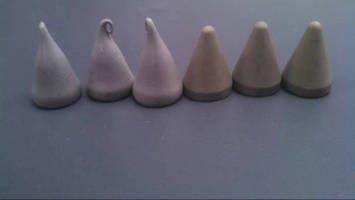 Molded RG vs. "KISS" RG



Continued development and improved design has led us to begin manufacturing our special process RG media in mold form!  Our RG plastic media has always been a premium product that leaves a very smooth finish and great pre-plate for all types of materials.  Past production of this media was performed using a "kiss machine" that gave a shape much like a Hershey Kiss.  Producing this quality media in a mold form has eluded us for years which resulted in the "kiss" shape, until now.  With improved molding and great feedback from our distributors and direct customers we are pleased to provide this media in a consistent molded form that will have less variation in structure.  The formulation and performance of the RG is still the same, but now it is available in ¼" cones and pyramids for those smaller more precise parts, and there are many more sizes and shapes to come in the future!  If you currently purchase or have purchased RG in the past please contact a Vibrafinish associate to have a sample sent for your review.  The new molded form will still provide you with a great finish and wear that you are accustomed to but now will be available in many more sizes for almost every need!



• OUR PAST RG MEDIA (3 ON LEFT SIDE) MADE ON "KISS" MACHINE AND OUR NEW IMPROVED MOLDED RG MEDIA (3 ON THE RIGHT SIDE). AS YOU CAN SEE THE SHAPE IS MORE CONSISTENT AND IDENTICAL IN SIZE.





More from Material Processing