Molded Plastic Zipper features heavy-duty construction.
Press Release Summary: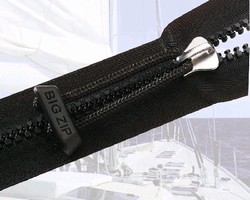 Offering 100% corrosion resistance to salt water and atmospheric environments, Big Zip(TM) #15 features Marine Grade 316 polished stainless steel slider. Teeth are injected molded from DuPont Delrin® acetal resins and are UV stabilized. Delrin pull handle is attached to slider with UV-resistant polyester double-braided 16 carrier cord. Available with single and double bail sliders, Big Zip is 2.75 in. wide and can be fabricated to any length.
---
Original Press Release:
Lenzip Introduces Super Heavy-Duty Premium Big Zip(TM) No.15 Molded Plastic Zipper
CHICAGO, IL-LENZIP MANUFACTURING CORPORATION is pleased to introduce the new Big Zip(TM) #15 Premium Heavy-Duty molded plastic zipper. This zipper is the largest, strongest and most durable zipper made in the United States. The zipper offers uncompromising durability and is 100% corrosion resistant to salt water and atmospheric environments. The zipper is offered with an exclusive slider made of Marine Grade 316 Polished Stainless Steel. The teeth of the zipper are injected molded from DuPont Delrin® acetal resins and are UV stabilized for long life. In lieu of a standard pull on the slider, Lenzip offers a unique pull handle made from the same durable Delrin® material. The handle is attached to the slider with a UV resistant polyester double braided 16 carrier cord. Independent laboratory tests conducted according to ASTM guidelines found no signs of rust or corrosion under salt and high humidity conditions. The Big Zip(TM) zipper is ideal for applications requiring a strong, corrosion resistant closure and/or applications that simply do not allow for a closure to fail. Portable fabric structures, large inflatable balloons, large tent enclosures, commercial tarps, environment containment enclosures and various military applications would all be served well by this premium heavy-duty zipper. The Big Zip(TM) can be fabricated to any length and is available with single and double bail sliders. The overall width of the zipper is 2.75". Various zipper styles are available, including open end, closed end and coverall styles. Lenzip Manufacturing Corporation manufactures the Big Zip(TM) zipper in Chicago and guarantees its performance for life. Founded in 1946, the support and problem solving capability of Lenzip Manufacturing Corp. spans the last half of the 20th century. An extensive product line consists of over 900 different zipper styles serving the needs of over 40 varied industries. Custom made zippers are available for nearly every commercial and industrial application required by small and large companies, world wide organizations and government agencies. For more information, contact: Paul Lichtenstein, President LENZIP MANUFACTURING CORP. 1900 W. Kinzie Street, Chicago, IL 60622 U.S.A. Voice: 312.829.1865 Fax: 312.829.1515
More from Software