Molded Deutsch and Superseal Cordsets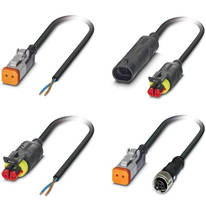 Middletown, Pa. — Phoenix Contact now offers Deutsch and Superseal connectors as pre-molded cordsets. These connectors are 100-percent factory-tested and ready for use in mobile hydraulic applications. While the Deutsch and Superseal connectors are well established as quality discrete-wired solutions, crimp technology and on-site installation often add to hidden labor costs.



The Deutsch connector is the female 2-position DT-06-2S and comes in the following variants: without LED to open end (rated 48 V DC at an operating current of 8 A); with LED to open end (24 V DC at 8 A); and with LED and suppressor diode to open end (24 V DC at 3 A).



The Superseal connector is available as male or female to open end, and male-to-female, all without LED. The Superseal cordsets are rated 24 V DC at 8 A operating current.



Commonly used for the discrete wiring of cable harnesses on mobile equipment, the cordsets measure 18 AWG (2 x 0.75 mm²) and are made of PUR black cable. Additionally, both the Deutsch and the Superseal feature IP65/IP67 protection and a temperature range of -20°C to 85°C.



Additional variants, such as double-ended, M12 connectors or other lengths, can be requested through Phoenix Contact's Solution Center.



About Phoenix Contact

Phoenix Contact develops and manufactures industrial electrical and electronic technology products that power, protect, connect and automate systems and equipment for a wide range of industries. Phoenix Contact GmbH Co. KG, Blomberg, Germany, operates 50 international subsidiaries, including Phoenix Contact USA in Middletown, Pa.



For more information about Phoenix Contact or its products, visit http://www.phoenixcontact.com, or call technical service at 800-322-3225, e-mail info@phoenixcon.com.



More from Thermal & Heating Equipment