Molded Case Circuit Breakers support worldwide use.
Press Release Summary: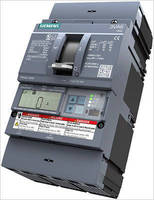 Designed to meet both UL489 and IEC60947-2 standards, Models 3VA5 and 3VA6 protect cables and electrical loads from damage and failures caused by disruptions such as short circuit or overloads. Model 3VA5, offered in 1- and 3-pole versions with thermomagnetic trip unit, comes in 125 A and 250 A versions with switching capacities of 65 kA and 100 kA at 480 V, respectively. Rated up to 600 A, Model 3VA6 has electronic trip unit available in 3 different series with different functionality gradations.
---
Original Press Release:
3VA Molded Case Circuit Breakers Can Now Be Used Worldwide
Erlangen, -- At this year's SPS IPC Drives, Siemens will present two new models of the company's molded case circuit breakers, the 3VA5 and 3VA6, which now also meet the UL489 standard for North America and can be used worldwide. In buildings and industrial plants, molded case circuit breakers protect cables and electrical loads from damage and failures that can be caused by disruptions such as short circuits or overloads. In addition to the IEC60947-2 European standard, the devices now also meet the UL489 standard. Global switchgear manufacturers can now use the 3VA molded case circuit breakers in Europe as well as in North America. In addition to their compact, space-saving design, the 3VA molded case circuit breakers are also easy to use. Technical information about the devices can be retrieved directly via QR code, for example, and extensive CAx data facilitates easy planning and configuration. The devices can be used flexibly for plant protection, as circuit breakers for a motor-starter combination, and as a molded case switch. With more than 500 accessory components, plant manufacturers can meet all individual requirements for electrical power distribution.

Underwriters Laboratories (UL) is an independent organization that tests and certifies products with regard to their operational safety. The UL certification mark verifies that a product complies with safety regulations in the U.S. Many machine and switchgear manufacturers and their customers from industry and from the infrastructure business use molded case circuit breakers in their plants and build them to meet the American standard for export to the U.S. For these companies, the UL certification mark is a necessary proof of quality.

Siemens optimized the new 3VA5 model range for standard applications in power distribution. The 3VA5 molded case circuit breaker with thermomagnetic trip unit is available for line protection in 1- and 3-pole versions. Siemens offers the 3VA5 in sizes: one with a rated current of 125 amperes (A) with a switching capacity up to 65 kiloamperes (kA) and the other with 250 A and a switching capacity of 100 kA at 480 volts (V). In addition to versions for plant protection, the new devices are also available as circuit breakers for motor-starter combinations and as molded case switches.

The 3VA6 model range with a rated current of 600 A and an electronic trip unit (ETU) is suitable for expanded applications. Depending on the requirement, the ETUs are available in three different series (3-series, 5-series, and 8-series) with different functionality gradations. The ETU from the 8-series, for example, measures voltage, current, and energy data and has an optional communication capability to transfer this information directly to higher-level energy management or automation systems. The 3VA6 model can communicate via Profibus, Profinet, Ethernet (Modbus TCP), and Modbus RTU. The molded case circuit breakers in the frame sizes 150 A, 250 A, 400 A, and 600 A feature high switching capacities up to 150 kA at 480V. Siemens additionally offers new "100% rated" versions of the molded case circuit breakers, which can be operated continuously with 100 percent of the specified nominal current. Typically UL devices can be operated continuously only up to around 80 percent of the nominal current. In the case of higher requirements, it is necessary to use a circuit breaker from the next-higher frame size. This means additional costs for the customer. The "100% rated" versions are specifically tested and certified and offer clear cost benefits.

The 3VA6 molded case circuit breaker is also available as a circuit breaker for motor-starter combinations up to 500 A and as a molded case switch up to 600 A.

Siemens offers an extensive range of accessories for both model ranges, such as manual operator Max-Flex with bowden cable. The handle of these manual operators is installed in the control cabinet door; the circuit breaker can be switched on and off manually.

For further information on Division Energy Management, please see www.siemens.com/energy-management

For further information on molded case circuit breaker, please see www.siemens.com/3va

Siemens AG (Berlin and Munich) is a global technology powerhouse that has stood for engineering excellence , innovation, quality, reliability and internationality for more than 165 years. The company is active in more than 200 countries, focusing on the areas of electrification, automation and digitalization. One of the world's largest producers of energy-efficient, resource-saving technologies, Siemens is No. 1 in offshore wind turbine construction, a leading supplier of gas and steam turbines for power generation, a major provider of power transmission solutions and a pioneer in infrastructure solutions as well as automation, drive and software solutions for industry. The company is also a leading provider of medical imaging equipment – such as computed tomography and magnetic resonance imaging systems – and a leader in laboratory diagnostics as well as clinical IT. In fiscal 2015, which ended on September 30, 2015, Siemens generated revenue of €75.6 billion and net income of €7.4 billion. At the end of September 2015, the company had around 348,000 employees worldwide. Further information is available on the Internet at www.siemens.com.

Contact
Mr. Heiko Jahr
Energy Management Division
Siemens AG
Freyeslebenstr. 1
91058  Erlangen
Germany
Tel: +49 (9131) 7-29575
heiko.jahr@siemens.com
More from Software