Mold Release Agents and Sealers help produce polyurethane foams.
Press Release Summary: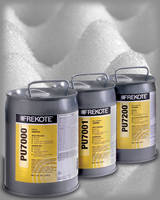 Loctite® Frekote® PU7000™ is designed for open cell or gloss surface foams, while PU7001™ release agent and PU7200™ mold sealer are suited for flexible polyurethane or semi-rigid polyurethane foams. Spray applied at temperatures from 95-149°F are thermally stable to 450°F and dry in 30 sec when exposed to ambient moisture at 110°F. Solvent-based polymers offer low mold buildup and minimal transfer during production of polyurethane foams and thermoplastic resins, coatings, and films.
---
Original Press Release:

New Frekote® Mold Release Agents for Polyurethane Foams



Exceptional Performance on a Variety of Substrates, Including Polyurethane Foams and Thermoplastics



Rocky Hill, Conn. - A new line of Loctite® Frekote® mold release agents and sealers from Henkel Corporation is designed for use on a variety of substrates, including rigid and elastomeric open cell polyurethane foams. Easy to apply and fast curing, Loctite® Frekote® PU7000™, PU7001™ and PU7200™ semipermanent release agents offer low mold buildup and minimal transfer to simplify production of polyurethane foams and thermoplastic resins, coatings and films.



The three new Frekote® products are clear, solvent-based polymers that are spray applied at temperatures between 95°F and 149°F, drying in just 30 seconds when exposed to ambient moisture at 110°F. All three products are thermally stable to 450°F.



For flexible, resilient polyurethane foams, Loctite® Frekote® PU7000™ allows many releases of open cell or gloss surface foams before mold cleaning is required. Loctite® Frekote® PU7001™ is a high-slip, low transfer release agent that requires very little cleaning of molds and is designed for flexible, resilient polyurethane foams or semirigid polyurethane foams. Loctite® Frekote® PU7200™ is a mold sealer and release agent offering high slip and minimal transfer on both flexible and semirigid polyurethanes.



Loctite® Frekote® PU7000™, PU7001™ and PU7200™ semipermanent release agents are ideal for use on rigid polyurethane foams found on sporting equipment, safety padding, seating and protective guards; on elastomeric, open cell polyurethane foams used in pillows and mattresses; and on thermoplastic resins, coatings and films.



Henkel has created a detailed product brochure and website to provide information on the complete Loctite® Frekote® line. For more information, go to www.henkelna.com/frekote or call 1-800-LOCTITE (562-8483).



For additional information on Henkel and Loctite®, watch on YouTube, join Henkel on Facebook at facebook.com/loctite, and follow Henkel on Twitter at twitter.com/loctite_na for instant access to new #loctitesolutions.



Henkel operates worldwide with leading brands and technologies in three business areas: Laundry & Home Care, Beauty Care and Adhesive Technologies. Founded in 1876, Henkel holds globally leading market positions both in the consumer and industrial businesses with well-known brands such as Persil, Schwarzkopf and Loctite. Henkel employs about 47,000 people and reported sales of $21.7 billion and adjusted operating profit of $2.8 billion in fiscal 2011. Henkel's preferred shares are listed in the German stock index DAX.



Henkel Corporation

Engineering Adhesives

One Henkel Way

Rocky Hill, CT 06067

Tel: 1-800-LOCTITE (562-8483)

Tel: 860-571-5100

www.henkelna.com/industrial







More from Materials