Mold Release Agent is formulated for brake pad manufacturing.
Press Release Summary: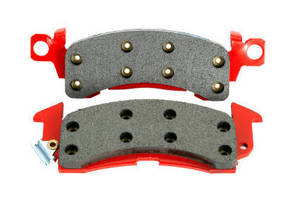 Release Coating 7776, formulated for molding friction materials, is water-based agent that protects mold from penetration by abrasive friction materials used in molding process. It can be diluted at ratio of 1 part concentrate to 15 parts water. Withstanding 350°F and higher mold temperatures, it provides smooth, defect-free parts when applied using automated spray systems. Product is available in 5 gal containers, 55 gal drums, or 275 gal totes.
---
Original Press Release:

New, Highly Dilutable Mold Release for Brake Pads



Release Coating 7776, an environmentally friendly, water-based mold release formulated for molding friction materials was recently developed by Huron Technologies, Inc. Release Coating 7776 is a concentrate which can be diluted with water at a ratio of 1 part concentrate to 15 parts water. This product forms a resilient barrier which protects the mold from penetration by the often abrasive friction materials during the molding process. The strength of Release Coating 7776, coupled with its minimal build up, means longer life for molds and less downtime for cleaning. Designed for use at 350°F and higher mold temperatures, Release Coating 7776 provides smooth, defect free parts when applied using automated spray systems. Release components do not decompose to cause painting problems in other parts of the plant.

Friction products that this release coating was designed for includes brakes or clutch plates in:

Automobiles

Light and Heavy Duty Trucks

Off-road Vehicles

Aircraft

Industrial Braking Applications

This product is available in 5 gallon containers, 55 gallon drums or 275 gallon totes. Huron Technologies, Inc. provides standard and custom formulated release coatings for a wide range of applications.

For more information contact:

Huron Technologies, Inc. 415 Industrial Drive, Leslie, MI 49251

Phone: 517-589-0300, Toll free: 800-275-4902, Fax 517-589-0390

Website:www.hurontech.com

email: info@hurontech.com

More from HVAC