Mold Release Agent enables multiple release of panel filters.
Press Release Summary: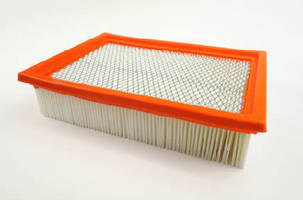 Designed for OEM and aftermarket filters, Release Coating 7833 is formulated to give multiple release from aluminum molds in flexible integral skin applications. Product not only preserves bond between polyurethane seal and paper component of filter, but also provides aesthetic appearance. Slip and ease of release minimizes effort in manual demolding.
---
Original Press Release:

Multiple Release of Panel Filters with Huron Technologies' Release Agent



Leslie, MI - - A new mold release agent specifically designed for OEM and aftermarket filters is now available from Huron Technologies, Inc. of Leslie, MI. Release Coating 7833 is formulated to give multiple release from aluminum molds in flexible integral skin applications. Fast, comprehensive coverage of the mold area and quick evaporation provided by Release Coating 7833 saves molders time, thus increasing productivity. These performance improvements have been proven by extensive lab testing and customer validation.

Key benefits of Release Coating 7833 include:

Multiple release - Release Coating 7833 delivers increased production cycles before additional release is needed.

Excellent surface appearance - Release Coating 7833 is formulated not only to preserve the bond between the polyurethane seal and paper component of the filter, but also to provide an attractive visual appearance.

Improved ergonomics - Less effort in manual demolding is provided by the exceptional slip and ease of the release offered by Release Coating 7833.

Huron Technologies, Inc. develops and manufactures release agents for rubber elastomers, composites, concrete, and polyurethane systems, providing a wide range of off-the-shelf release agents as well as custom mold release agents to meet customer requirements.

For more information on Release Coating 7833 or many of our other manufacturing solutions, contact:

Huron Technologies, Inc.

415 Industrial Drive

Leslie, MI 49251, Ph: 517-589-0300

Fax: 517-589-0390

Toll Free: 800-275-4902

Email: info@hurontech.com

More from Machinery & Machining Tools