Moisture Detection Instruments reveal hidden mold.
Press Release Summary: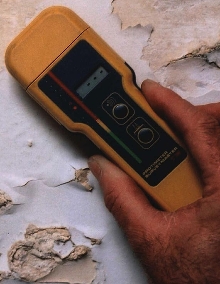 Protimeter moisture detection instruments offer LCD or LED displays that detect moisture from fire control, storm, water, or other damage. Instruments include 3-in-1 MMS for assessing moisture levels in air, wood, cement, and tile. Surveymaster SM dual-mode moisture meters use pin electrodes, deep wall probes, or non-invasive Search Mode. Hygromaster instruments use Hygrostick probes to measure relative humidity of wall cavities, floors, and ambient conditions.
---
Original Press Release:
Protimeter Moisture Detection Instruments Help Find Mold Early
DATE: July 19, 2002 Woburn, MA - GE Protimeter moisture detection instruments can help contain the nationwide trend of sharply increased insurance and repair costs, as well as health risks associated with mold infestation that is impacting insurance companies, contractors and homeowners alike. Mold-related issues ranging from outbreaks and control to insurance scams are national news. Mold is costing millions of dollars in detection, prevention, cleanup and insurance settlements. In Texas, authorities arrested seven people recently, charging that they conspired to defraud insurance companies out of millions in false homeowner claims. In Congress, victims' advocates are calling for federal legislation to create a mold insurance pool (for testing and remediation). GE Protimeter manufactures several moisture detection instruments with easy to read LCD or LED displays that reveal mold-causing hidden moisture after fire control, storm, water, or other damage has occurred. These include: the 3-in-1 MMS, a powerful instrument for assessing moisture levels in the air as well as in building materials from wood to cement to tile in walls, floors and ceilings. The Surveymaster SM, a dual-mode moisture meter that uses pin electrodes, deep wall probes, or non-invasive Search Mode; and the Hygromaster which uses a Hygrostick probe to measure the Relative Humidity of wall cavities, floors, and ambient conditions. GE Protimeter has more than 45 years of manufacturing and application experience producing accurate, durable hand-held instruments employing state of the art technology including hygrometry, pin-based and non-invasive radio frequency moisture detection. It is part of the Measurement and Sensing Technologies Division of GE Industrial Systems, which is one of GE's major business groups. For more information, visit the website at www.protimeter.com For further information, contact:
GE Measurement & Sensing Technologies/ GE Protimeter
20 Commerce Way Woburn, MA 01801
Phone: 800/321-4878
FAX: 781/938-5029
E-MAIL: meters@indsys.ge.com
More from Machinery & Machining Tools