Temperature Sensors / Detectors / Transducers
Moisture Control in High Temperature Molding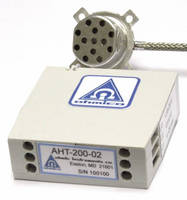 Controlling the moisture in rubber and plastic manufacturing improves quality and increases yield, resulting in higher profits.



The ABS-300 thermal conductivity Absolute Humidity sensor withstands higher temperatures and harsh environments that other sensors do not. The sensor works from 30 to 200 Deg C., with an optimal operation at 60 Deg. C. The sensor is washable and recovers from condensation.  Sensor may be used with most gases.



This sensor is used by Ohmic Instruments Co. to manufacture the AHT-200-01 and AHT-200-02 Absolute Humidity Transmitters.  The AHT-200-01 has an output of 0 to 5 or 0 to 10 VDC.  The AHT-200-02 has an output of 4 to 20 mA. Both units have a 0 to 130 g/m³ range.



For more information visit www.ohmicinstruments.com, or call technical support at 800-626-7713.



More from Electrical Equipment & Systems