Moisture Analyzer offers halogen heating.
Press Release Summary: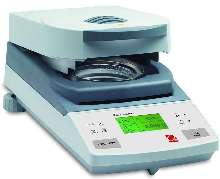 The MB-45 Moisture Analyzer features halogen heating along with accurate weighing technology to perform precise moisture analysis procedures. With capacity of 45 g, analyzer has readability of 0.01% or 0.001 g and heats samples from 50-180°C in less than a minute. System incorporates software applications and graphical LCD to display percent moisture, percent solids, temperature, time, and real time drying curve. Applications include food processing, pharmaceutical, and chemical industries.
---
Original Press Release:

Ohaus MB-45 Halogen Moisture Analyzer Adds Speed and Precision to Common Sampling Applications


Pine Brook, NJ (May 27, 2003) -- Ohaus Corporation, a leading
manufacturer of balances for the laboratory, education, industrial and specialty markets worldwide, offers the MB-45 Moisture Analyzer in its industry leading line of high precision laboratory equipment. In combining state-of-the-art halogen heating along with highly accurate weighing technology, Ohaus has created the MB-45 moisture analyzer to deliver a faster, more precise method of completing moisture analysis procedures. The Ohaus MB-45 Moisture Analyzer is ideal for sampling
applications in the food processing, pharmaceutical and chemical industries, providing loss on drying results for volatile content in powders, pastes and/or liquids. With a standard capacity of 45g, the Phoenix moisture analyzer has a readability of 0.01% or 0.001g. The halogen heating technology performs up to 40% faster than infrared drying technology, and allows users to heat samples from 50°C to 180°C in under a minute. In addition, the MB-45 incorporates software applications designed to simplify operation, save time and produce accurate results. The graphical LCD works in tandem with the software to display % moisture, % solids, temperature, time, a real time drying curve and more.

The product's integrated database allows users to store up to 50
drying procedures, eliminating the need to enter common drying procedures time after time. The intuitive graphical interface simply prompts the user to select a programmed procedure and begin, significantly reducing redundant practices and boosting overall productivity. Despite the addition of numerous new features and functionality, the MB-45 is available at a lower
price than the previous generation of Ohaus moisture analyzers.

The MB45 also offers a timer that can be set from 0.1 to 120
minutes to accommodate virtually any moisture analysis procedure, and an audible signal automatically notifies the user when each test is complete.

The MB45 features a standard RS232 bi-directional interface,
facilitating easy communication between the analyzer and a computer, printer or other peripheral device.

All Ohaus MB45 Moisture Analyzers are covered by an industry leading 5-year warranty in the U.S. and Canada.

Ohaus Corporation manufactures an extensive line of high
precision, portable, industrial and mechanical balances for the laboratory, education, industrial and specialty markets. An ISO 9001 manufacturer, Ohaus is headquartered in Pine Brook, New Jersey, and has offices throughout Europe, Asia and Latin America. For additional information, please contact Ohaus Corporation at 973/377-9000, or visit the Ohaus web site at: www.ohaus.com < ohaus.com/>.

More from Agricultural & Farming Products