Modules extend DAB functionality in automotive industry.
Press Release Summary: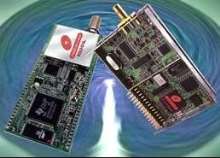 RadioScape RS201L, designed for DAB receivers in homes, offers integrated functionality through software and features CD transport control, MP3/WMA playback, and IR remote control. Measuring 44 x 110 x 15 mm, module has low-power design down to 750 mW and receives Band III and L-Band DAB, FM, and RDS. RadioScape RS200A provides entry-level module for Band III and L-Band DAB functionality in automotive market. Measuring 62 x 37 x 10 mm, unit can fit within standard car radio format.
---
Original Press Release:

Radioscape Extends DAB'S Reach with Launch of Two New Modules


DAB set to become a standard feature in automotive and consumer electronics markets

London, UK -- 13 October 2004 -- RadioScape has launched two new modules for low cost, high performance, entry level products to further drive the growth of the DAB market. These are variants of the RadioScape RS200" module that has just been shortlisted for the upcoming European Electronics Industry Product of the Year Award, which will be announced at Electronica on 9 November 2004. The RadioScape RS201L" is designed for high volume, low power DAB receivers for the home while the RadioScape RS200A" provides an ideal entry point for manufacturers designing for the DAB automotive market.

"We continue to innovate by providing manufacturers with a complete range of modules with which to make a comprehensive family of DAB receivers," says Andrew Moloney, RadioScape's Marketing Manager for its Receivers business. "Our unique Software Defined Digital Radio approach means that we create features and functions in software so that manufacturers can further differentiate their models to create products targeted at different market segments, lowering overall power requirements and without necessarily increasing costs."

Les Mable, Digital Radio Business Development Manager at Texas Instruments, adds, "RadioScape's module designs have been instrumental in growing the DAB market as they make it extremely easy for manufacturers to make DAB radios by simplifying the product development cycle. As a result, manufacturers can bring models to market in weeks, rather than months, giving customers a wide choice of DAB receivers to choose from. These modules drive sales and have played a significant role in TI's recent announcement of shipping one million digital radio baseband chips. We expect these new modules will help continue our growth."

RadioScape RS201L

This low power module is pin compatible with and a drop-in replacement for the RadioScape RS200L module, which has been the company's most popular tri-band design to date. It offers a high level of integrated functionality through software to provide significantly lower system costs for multi-function devices. Features such as CD transport control, MP3/WMA playback, and infra-red remote control are provided as standard options with the module, leveraging the performance of TI's DRE200 digital baseband. In addition, its low power design that can be as low as 750mW, can increase battery life for portable products by as much as three times compared to its predecessor the RS200L.

"Customers have been asking us to improve battery life for portable receivers," explains Andrew Moloney. "The RS201L module not only achieves this but, with its additional software features, further reduces the system cost of adding DAB to multi-function devices. The stage is set for DAB to become a standard feature for almost any consumer entertainment device."

Measuring 44mm by 110mm by 15mm, the RS201L module can receive Band III and L-Band DAB, FM and RDS. Samples are available now and volume shipments start in November 2004. The design of the module can be licensed if manufacturers wish to build it themselves. Prices for the RS201L module are around $35 depending on the volume ordered and configuration.

RadioScape RS200A

This is the second module from RadioScape for the automotive market and is also based on TI's DRE200. The RadioScape 350A, which was launched in July 2004, is designed for high end, feature-rich products while the RS200A provides an entry-level module for Band III and L-Band DAB functionality. Pin and form factor compatibility between the two modules simplifies manufacturers' designs so that they can cost effectively create a range of products with different feature sets using the same basic design.

"The RS200A enables us to offer the manufacturers of DAB receivers for cars the same benefits that we provided to the manufacturers of DAB kitchen radioslow systems costs, high volume availability and easy product differentiation through software," adds Andrew Moloney. "This will really help open up the growing DAB automotive market by enabling low cost, high performance, entry level products to be made available from a range of manufacturers."

Its compact size of only 62mm by 37mm by 10mm enables it to fit within a standard car radio format and it has been designed to meet the performance specifications required for use in automotive applications. Prices for the RS200A module are around $35 depending on the volume ordered and configuration. The design of the module can be licensed if manufacturers wish to build it themselves. Samples are available now and modules will begin to ship in volume in December 2004.

RadioScape

RadioScape Ltd. is one of the world leaders in Software Defined(tm) solutions for Digital Radio applications. RadioScape simplifies the creation of wireless receivers and transmission infrastructure for digital radio, partners with Texas Instruments to create digital radio chips for consumer products, and designs its own family of DAB/FM modules including the RadioScape RS200(tm), RS200L(tm), RS201(tm), RS350A, RS300L and RS250H(tm). Founded in 1996, RadioScape's investors include Royal Bank Ventures, Scottish Equity Partners, Atlas Venture, JAFCO, Texas Instruments, Yasuda Enterprise Development, iGlobe Partners, Psion and NTL. RadioScape is headquartered in London, England with offices in Singapore and Hong Kong. For more information, please visit www.radioscape.com

RadioScape is a registered trademark and RS200, RS200L, RS201L, RS200A and RS350A are trademarks of RadioScape Limited. All other trademarks are acknowledged.

For more information, please contact:

Nigel Oakley
VP Marketing
RadioScape Ltd
+44 20 7317 1969
nigel.oakley@radioscape.com

Nigel Robson
Vortex PR
Island House, Forest Road, Guernsey, GY8 0AB UK
Tel +44 (0) 1481 233080, Fax +44 (0) 1481 233082, email Nigel@vortexpr.com

More from Thermal & Heating Equipment