Module Treatment System recovers oil from waste.
Press Release Summary: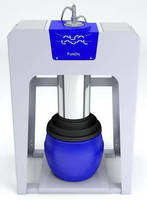 Comprising pumping module with emulsifier dosing unit, heating and separation modules, and control unit, PureDry separates waste oil into 3 phases: cleaned oil, super-dry solids disposable as dry waste, and water clean enough to be sent to bilge system. Simplicity of separator design ensures reliable operation, and automation adapts process control to varying feed conditions. There is no water consumption, and no additional waste is generated.
---
Original Press Release:

ALFA LAVAL PureDry - Oil Recovery from Waste Treatment System



PureDry separates the waste oil into three phases: cleaned oil, super-dry solids which can be disposed of as dry waste, and water clean enough to be sent to the bilge system.



A compact modular design

The compact PureDry system comprises a pumping module with emulsifier dosing unit, a heating module, a separation module and a control unit. Its modular design provides flexibility for installation in any convenient location and makes it easy to integrate with existing onboard systems.



Visit the information website for

• Datasheet, waste fuel recovery

• Technical information

• Reference list

• Article on fuel savings in Shipworld



Reliable operation

The uniquely simple separator design ensures easy, reliable operation. The system separates the waste oil into three phases: cleaned oil, super-dry solids which can be disposed of as dry waste, and water clean enough to be sent to the bilge system. Smart automation adapts the process control to varying feed conditions. There is no water consumption and no additional waste generated.



Substantial savings on waste oil handling

PureDry cuts the cost of waste oil and solids handling by removing the maximum amount of water from the waste oil and concentrating the solids to super-dry sludge (typically 5-15 kg/24 h), thus eliminating oily waste and related disposal costs.



The efficiency of the system in terms of drying up oily waste streams means holding tank volumes for waste oil and waste water can be reduced, thus freeing up valuable space on board a ship or in a power plant.



Furthermore, waste fuel recovery is possible when FO waste are separated from LO waste (separate waste oil tanks) – fuel saving up to 2% is possible.



Maintenance and service by Exchange

PureDry is supplied with an Exchange Kit, which includes a new separator insert (rotor and disc stack), a new XCavator, and a consumables kit. After one year, the crew replaces the separator insert as simply as replacing the insert in a filter, also replacing the XCavator. The used parts are returned to the nearest Alfa Laval Service Center, and the ship orders new Kits.



Integrated waste oil/bilge water treatment concept

In combination with Alfa Laval's PureBilge system, PureDry forms a complete, integrated waste oil/bilge water treatment solution that can dry up all oily waste streams on the ship or in the power plant. PureDry separates out the oil, concentrates the solids to super-dry sludge which can be landed as dry waste, and sends the water to the bilge system. PureBilge then takes care of the fine polishing of the oily water prior to discharge overboard.



When investing in PureDry, we promise payback and profit in less than one year.



About Alfa Laval:



Alfa Laval is a leading global provider of specialized products and engineering solutions based on its key technologies of heat transfer, separation and fluid handling.



The company's equipment, systems and services are dedicated to assisting customers in optimizing the performance of their processes. The solutions help them to heat, cool, separate and transport products in industries that produce food and beverages, chemicals and petrochemicals, pharmaceuticals, starch, sugar and ethanol.



Alfa Laval's products are also used in power plants, aboard ships, in the mechanical engineering industry, in the mining industry and for wastewater treatment, as well as for comfort climate and refrigeration applications.



Alfa Laval's worldwide organization works closely with customers in nearly 100 countries to help them stay ahead in the global arena.



www.alfalaval.com



For further information contact:

Bob Keating

+1 (416) 297-6308

bob.keating@alfalaval.com

Related