Module Array provides photovoltaic monitoring solution.
Press Release Summary: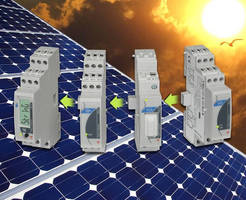 Eos-Array is combination of modules that perform complete control of photovoltaic plant. Expandable system includes VMU-M core unit that provides local bus management of measuring units and can provide 2 relay outputs via VMU-O I/O unit. Measuring units include VMU-S, which monitors DC power and features built-in fuse holder, and VMU-P that collects environmental data. System features Eos-ArraySoft software, which can automatically or manually download system memory to PC.
---
Original Press Release:

Expandable Eos-Array Provides Photovoltaic Monitoring Solution



May 21, 2009 - Buffalo Grove, IL - Carlo Gavazzi, a global manufacturer of automation components, proudly presents the Eos-Array, an innovative control solution for solar photovoltaic (PV) applications.

The renewable energy market is growing worldwide, as conventional energy costs rise, and due to the heightened awareness of long term ecological issues. To satisfy this rising demand for 'green technologies', Carlo Gavazzi has expanded its energy management portfolio with the addition of the EOS-Array, a unique, modular controller for solar PV installations.

The Eos-Array is a combination of modules which perform the complete control of a photovoltaic plant. It is also extremely expandable. The core unit is the VMU-M which performs the local bus management of both measuring units, the VMU-S and the VMU-P, as well as the I/O unit, the VMU-O. The VMU-M assigns the proper local unit address automatically and gathers all the local measurements coming from VMU-S and VMU-P measuring units. The VMU-M can provide, by means of VMU-O modules, two relay outputs to manage alarms and/or external loads (such as a a lighting system, a PV washing system, etc.) and two PV panel temperature inputs. The VMU-S is the DC power measuring unit (generated by PV panel), which features a built-in fuse holder. The VMU-P collects relevant environmental data (through external sensors) such as wind speed, air temperature and sun irradiation. The Eos-ArraySoft is freeware software, which either automatically or manually can download the Eos-Array system memory to the PC, for further PV plant efficiency calculations and alarm analysis.

Relevant Technical Features: All Module Units

o Housing (HxWxD): 90x17.5x67mm for DIN-rail mounting

o Maximum width of full array: 280mm

o Protection degree (front): IP40

VMU-M Unit: Master Module

o RS485 (Modbus) communication port

o Local communication bus management, for up to 15 VMU-Ss

o Two digital inputs for status and energy counting

o Data stamping system: V, A, W, Wh, PV cell, ambient temperature, variable and string alarms

o Front 6-digit LCD display

o 24VDC power supply

VMU-S Unit: String Controller

o DC V, A, W, Wh metering

o Solar PV analysis

o Anti-theft control

o Built-in fuse holder

o Direct DC measurements up to 16A/800V

VMU-P Unit: Environmental Variables Management

o Two temperature inputs for either Pt100 or Pt1000

o One irradiation input

o One wind speed input

VMU-O Unit: Local I/O

o Two digital inputs for trip protection detection

o Two relay outputs for variable alarms and local control

The Eos-Array carries the CE and RoHS marks, and are cUL approved - your assurance of a high quality and safe product. They are available from Carlo Gavazzi's North American network of sales offices / distributors or from www.GavazziOnline.com.

Any questions regarding this press release should be directed to Rafal Pabich, Product Manager: 847.465.6100 x114 or rpabich@carlogavazzi.com

Available in the U.S. from:

CARLO GAVAZZI, 750 Hastings Lane, Buffalo Grove, IL 60089

Phone: 847.465.6100, Fax: 800.222.2659, Email: sales@carlogavazzi.com,
Website: www.GavazziOnline.com

More from Mechanical Power Transmission