Modular Workstations accept various add-on parts..
Press Release Summary: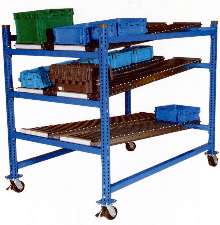 Flow Cells consist of complete TRACK and RACK units that offer modular approach to building customized flow through workstations. Square tube, bolt-on construction provides flexibility as well as clean sight lines. Products feature SPAN-TRACK for drop-in design and full width roller flow. Flow Cell Units range from 1-6 ft wide/deep with vertical heights to 7 ft. Posts are pre-punched 1 in. o.c. for adjustability and have overall capacity of 3,000 lbs. per unit.
---
Original Press Release:

New Modular Workstations Offer Easy Assembly and Best Flow on the Market


UNEX Manufacturing of Jackson New Jersey announces the release of a new product line, FLOW CELLS by UNEX. The patent pending Flow Cells are complete "TRACK & RACK" units that offer a modular approach to building your own flow through workstation. The Flow Cells have a variety of mix & match components which can be easily arranged to create an ergonomic station ideal for picking, assembly or line side storage.

Flow Cells square tube; bolt-on construction provides durability & flexibility as well as the added benefit of clean sight lines. For flow track, Flow Cells feature the leading carton flow track, SPAN-TRACK, known for its "drop-in" design and superior full width roller flow. Flow Cells standard components of posts, beams and track are modular and offer a simple, mix & match approach to configuring a cell that is easy to assemble. Additional customization and functionality is available with the choice of standard "Add-On" options such as the workbench, pick tray, toolbar and casters.

Flow Cell Units can range from 1 - 6 ft. wide or deep with vertical heights up to 7 ft. Front and side beams are interchangeable and ship with end plates in place to bolt to vertical posts. Posts are pre-punched 1" o.c. for easy adjustability and ship with footplates welded on. Overall Flow Cell capacity is 3000 lbs. per unit with each level rated at 1000 lbs. Like all UNEX manufactured flow products, Flow Cells are backed by a seven year platinum warranty.

For more information go to www.unex.com or contact:
Carolann Neuwirth 800-695-7726 ext. 237 carolann@unex.com

Related