AC Motor Controllers and Drives
Modular Variable Frequency Drives handle up to 650 hp.
Press Release Summary: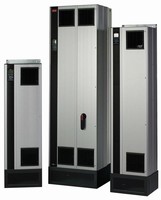 Engineered to satisfy constant or variable torque demands of industrial process, water, or HVAC applications, high-power VLT® drives offer up to 550 hp from VLT 5000, and up to 650 hp from VLT 4000, VLT 6000 HVAC, and VLT 8000 AQUA series. Drives exhibit 98% operating efficiency and utilize cooling design that segregates heat of high-power components from electronics. Products are available with Chassis/IP00, NEMA/UL type1/IP21, and NEMA/UL type 12/IP54 enclosures.
---
Original Press Release:

Largest Danfoss Variable Frequency Drives Now Offer More Power in Half the Size of Previous Models



LOVES PARK, IL -- Danfoss North America Motion Controls introduces a new high power platform for VLT® 5000 Series, VLT® 4000 Series, VLT® 6000 HVAC Series and VLT® 8000 AQUA Series variable frequency drives. The project replaces the three largest high power units in the 380-500VAC range in each series, and adds an additional higher horsepower unit to the program.

"The 50% size reduction is the result of Danfoss' determined redesign of all the renowned VLT® drives dedicated for industry, HVAC and water, following a similar redesign of VLT® drives in the lower power range," says Peter Kartanos, Product Manager of Danfoss High Power Drives.

Specifically engineered to satisfy the full constant or variable torque demands of virtually any industrial process, water or HVAC application, the new high power VLT drives offer up to 550HP from the VLT 5000, and up to 650HP from the VLT 4000, VLT 6000 HVAC and VLT 8000AQUA. These drives provide reliable and accurate operation at an impressive 98% operating efficiency, resulting in a significant reduction in heat dissipation. The innovative cooling design of the units segregates the heat of the high power components from the electronics. In addition, the unit's design allows for various cooling techniques that can be implemented to keep >80% of the heat dissipation from the control room or panel, typically eliminating the need for additional cooling and reducing the energy consumption of the installation site.

These drives are available with three distinct enclosures: Chassis/IP00, NEMA / UL type1/IP21 and NEMA / UL type 12/IP54. Since the units were designed with these enclosures ratings from the beginning, the result is an optimized package concept which provides the smallest overall dimensions for air-cooled VFD units in this power range compared to the world's top five competitive units available today.

The new VLT 5000, 6000HVAC and 8000AQUA high power series in The Chassis / IP00 enclosures measure 1547 x 585 x 494 mm (h x w x d). The NEMA UL type 1 / IP21 and NEMA UL type 12 / IP54 enclosures measure 2000 x 600 x 494. When equipped with the optional fused disconnect, the drive's overall depth is 44 mm larger due to the disconnect handle.

Modular construction allows users to buy only what is needed, and operating software and options facilitate easy retrofitting. The optimized design simplifies installation and reduces the overall number of components for ease of use and maximum reliability and up-time. A significant feature is the ability to build the small high power drives in standard Rittal TS8 enclosures with pre-engineered duct cooling kits.

The VLT 5352-5552 series drives provide 400-650 HP with 110 % overload and 350-550HP with 160 % overload. The VLT 4452-4652, VLT 6452-6622 HVAC and VLT 8452-8652 AQUA series units provide 450-650 HP with 110 % overload.

Additional features and options include: Built-in Class A2 RFI filtering as standard with class A1 optional; integral disconnect with option of available fuses; power termination design for easy installation, accepting single box lug or dual cable legs; logic routing with tie-down provisions to simplify installation and protect against noise disturbance; and 24V DC supply.

Danfoss is a leading manufacturer of precision mechanical and electrical components, with locations in more than 120 countries. Danfoss created the VLT name when they introduced the world's first mass-produced VFD in 1968, and the name has set the standard for high performance quality variable frequency drives ever since.

For more information contact Danfoss North America Motion Controls, 4401 N. Bell School Road, Loves Park, IL 61111; Phone: 800-432-6367; Fax: 815-639-8000; Email: salesinformation@danfoss.com; Website: www.namc.danfoss.com.

More from Portable Tools