Modular Transport System offers touch-screen interface.
Press Release Summary: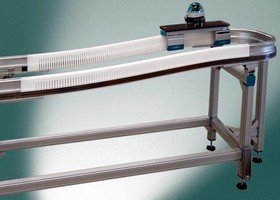 Consisting of self-moving shuttles that run along monorail track at speeds to 30 m/min, Montrac supports various components for operational efficiency. FlexTrac component, made of polyoxymethylene, makes it is possible to build sections with inclination up to 8% so Montrac can overcome height differences between machines/working stations. Touch-Panel component acts as independent direct addressing station that allows implementation of manual work stations.
---
Original Press Release:

New Components for the Montrac Transport System



(Huntersville, July 3, 2008) At Automatica 2008 in Munich, Montech introduced two new components for the Montrac transport system. FlexTrac and Touch-Panel.

Touch-Panel is an independent direct addressing station that allows implementation of manual work stations. Through a simple and intuitive touch screen, the operator can indicate the subsequent station to be reached by the shuttle. With Touch-Panel, the material flow is controlled directly without using a PLC.

With the standard I/O interface, inputs and outputs are set, while without I/O the shuttle is addressed.

Overcome height gaps
Using FlexTrac, Montrac can overcome possible height differences between machines and working stations. With minimum costs and easy tools, you can build sections with inclination up to 8%.

Made of POM (polyoxymethylene), FlexTrac can be integrated easily and flexibly into any Montrac system.

"Touch-Panel and FlexTrac provide Montrac users with even greater flexibility, further increasing the productivity of intralogistics in the company", said Alessandro Sibilia, CEO, Montech AG.

Universal shuttle system
With Montrac, Montech has developed a transport system with a modular concept. The self-moving shuttles run along the maintenance-free monorail track with speeds up to 30 m/min. The electrically operated elements (switches and crossings) do not require pneumatic operation (compressed air). Sibilia: "For over ten years now, Montrac has been used globally to enhance production processes, proving that it can revolutionize the logistic and production operations of any company".

For more detailed information please call 704.655.6400.