Modular Transport System is offered with bypass switch.
Press Release Summary: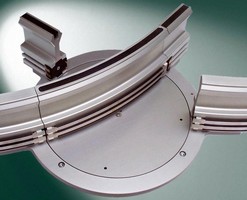 Montrac is available with TracSwitch Arena, which diverts shuttle from main track to secondary loop (bypass) and re-inserts shuttle onto main track when it leaves bypass. Switch is suited for long bypasses with several work stations and for 45 deg diversions. It has incoming and outgoing angle of 45 deg, so shuttle and conveyed workpieces move along diversion smoothly. Only one TracSwitch Arena unit is required to make complete bypass. Self-propelled shuttles have 24 kg max load capacity.
---
Original Press Release:

Montech: A New Switch for the Montrac Transport System



Huntersville, NC - February 20, 2008. Montech has introduced a new switch for the Montrac transport system: TracSwitch Arena increases flexibility and cuts intralogistic costs.

TracSwitch Arena diverts a shuttle from the main track to a secondary loop (bypass) and re-inserts the shuttle onto the main track when it leaves the bypass. The new switch is ideal for long bypasses with several work stations and for 45 degree diversions.
TracSwitch Arena has an incoming and outgoing angle of 45°, so that the shuttle and the conveyed workpieces move along the diversion more smoothly than with a conventional TracSwitch, which features a 90° angle.

TracSwitch Arena reduces costs
Only one TracSwitch Arena unit is required to make a complete bypass. "This solution is more cost-effective, compared with the pair of TracSwitch units necessary so far, because one switch is eliminated. By installing one TracSwitch Arena, the number of critical spots along the rail is reduced and, as a result, maintenance costs for the customer are lowered," said Alessandro Sibilia, CEO of Montech.

Montrac Online Configurator
With the Web-based Configurator at www.montech.com, where the new TracSwitch Arena has already been added, the customer can configure a Montrac plant independently and try out different variants. With this online tool, it is quick and easy to adapt the monorail track to the customer's operating needs and to available space in the installation place.

Modular system
Self-propelled shuttles, with a 24 kg maximum load capacity, run on monorails that can be assembled with a fully modular approach using straight sections, curves (connecting radius of only 280 mm), switches and crossings. Shuttles and rails communicate via infrared rays. The workpieces carried by the shuttle can be supplied along the track by an additional power plug. All Montrac components are compatible with each other.

TracSwitch Arena is delivered without configuration. Montech can provide custom configurations upon request. For more detailed information about TracSwitch Arena visit the Web site www.montech.com or call 704 655 6400.

Company Information
Name: Montech LLC
Address: 9825 NorthCross Center Court, Suite M
City: Huntersville
State: NC
ZIP: 28078
Country: USA
Phone: 704 655 6400
Fax: 704 655 8410
Web site: www.montech.com

More from Optics & Photonics