Modular Spectrograph features intelligent adaptive focusing.
Press Release Summary: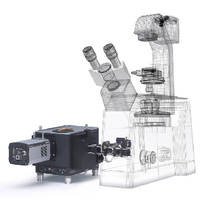 With Adaptive Focus Technology, Shamrock 193i allows automated access to best spectral resolution in any grating, camera, or wavelength range configuration. Motorized 193 mm spectrograph combines F/3.6 aperture with UV-NIR and SWIR detectors for optimized photon collection efficiency. System features RFID-tagged indexed grating turret, dual output port, dedicated micro-spectroscopy interfaces, and astigmatism-correction toroidal optics that enable multi-track fiber-optic acquisition.
---
Original Press Release:

Andor Launches New Modular Spectrograph Featuring Intelligent Adaptive Focusing



Intelligent, modular and compact imaging spectrograph



Belfast, Northern Ireland, -- Andor Technology Ltd., an Oxford Instruments company and world leader in scientific imaging and spectroscopy solutions, today announced the launch of its new Shamrock 193i, featuring patent pending Adaptive Focus Technology. This latest innovative addition to Andor's extensive portfolio of modular spectrographs has been designed with superior research-grade performance, versatility and ease of use in mind.



Its 'intelligent' motorised adaptive focusing allows automated access to the very best spectral resolution performance in any grating, camera or wavelength range configuration, with unmatched repeatability. The F/3.6 aperture, combined with Andor's world-class range of ultra-sensitive UV-NIR and SWIR detectors, offers a 'workhorse' spectroscopy platform with superb photon collection efficiency, ideal for challenging low-light micro-fluorescence / Raman applications or routine spectral acquisitions.



The RFID-tagged indexed grating turret, dual output port and extensive accessories range provide a highly configurable platform to best match Academic and OEM specific performance requirements. Dedicated micro-spectroscopy interfaces - including modular 'cage system' - allow seamless integration to microscopy setups, with Shamrock spectrographs and accessories now controlled in μManager software for easy setup of complex micro-spectroscopy acquisition sequence. Astigmatism-correction toroidal optics enable multi-track fibre-optic acquisition, while also offering high fidelity sample image relay to the detector in micro-spectroscopy setups, where an image of the sample and spectral information can conveniently be acquired through the same optical path. 



Antoine Varagnat, Product Specialist at Andor, said; "Andor's new compact, motorised 193 mm spectrograph is packed with exciting features designed for researchers' 'ease-of-use', from motorised wavelength selection to precise focus control at the touch of a button. Its modular architecture with dual detector output offers maximum detection versatility and tailored acquisition optimisation. Combine Andor's iDus CCD and InGaAs detectors for broadband Absorption spectroscopy, pair an iStar ICCD with a Newton CCD for steady-state and nanosecond time resolved photoluminescence, or harvest precious photons at speed with iXon or Newton EMCCDs in challenging Single Molecule Detecton or micro-Raman fast mapping scenarios. The Shamrock 193i is a perfect complement to Andor's leading range of longer focal length Czerny-turner, broadband Echelle and high throughput Transmission spectrographs."



For more information please visit www.andor.com/shamrock193 



Enquiries:

For further information please contact Victoria Gault on +44 (0)28 9023 7126, email press@andor.com,  or visit http://www.andor.com.



About Andor

Andor is a global leader in the pioneering and manufacturing of high performance scientific imaging cameras, spectroscopy solutions and microscopy systems for research and OEM markets. Andor has been innovating the photonics industry for over 20 years and continues to set the standard for high performance light measuring solutions, enabling its customers to break new ground by performing light measurements previously considered impossible. Andor's digital cameras, are allowing scientists around the world to measure light down to a single photon and capture events occurring within 1 billionth of a second.



Andor now has over 400 staff across 16 offices worldwide, distributing products to over 10,000 customers in 55 countries. Andor's products are used in a wide range of applications including medical research to further the understanding of heart disease, cancer and neuronal diseases such as Alzheimer's and Parkinson's disease. Andor also has applications for forensic science and astronomy. Through continuous dialogue with customers and strong teamwork, Andor continues to innovate ground-breaking products that improve the world in which we live.



About Oxford Instruments plc

Oxford Instruments designs, supplies and supports high-technology tools and systems with a focus on research and industrial applications. Innovation has been the driving force behind Oxford Instruments' growth and success for over 50 years, and its strategy is to effect the successful commercialisation of these ideas by bringing them to market in a timely and customer-focused fashion.



The first technology business to be spun out from Oxford University, Oxford Instruments is now a global company with over 2300 staff worldwide and is listed on the FTSE250 index of the London Stock Exchange (OXIG).  Its objective is to be the leading provider of new generation tools and systems for the research and industrial sectors with a focus on nanotechnology. Its key market sectors include nano-fabrication and nano-materials. The company's strategy is to expand the business into the life sciences arena, where nanotechnology and biotechnology intersect.



This involves the combination of core technologies in areas such as low temperature, high magnetic field and ultra high vacuum environments; Nuclear Magnetic Resonance; x-ray, electron, laser and optical based metrology; atomic force microscopy; optical imaging; advanced growth, deposition and etching.



Oxford Instruments aims to pursue responsible development and deeper understanding of our world through science and technology. Its products, expertise, and ideas address global issues such as energy, environment, security and health.