Modular Shielded Plugs are designed for CAT6a patch cables.
Press Release Summary: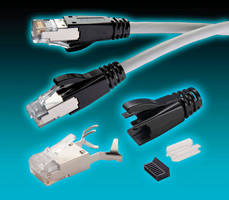 Suited for use in high-speed networking and computing applications, RoHS-compliant SS-39200 series of Category 6a 8P8C plugs features both wire aligner and load bar to facilitate consistent twisted pair orientation during plug assembly. Units have operating temperature range between -40°C to +85°C, and durability of 750 matching cycles. Voltage rating is at 150 Vac, while current rating is 1.5 A at 25°C. Plug, load bar and wire aligner are made of UL94-V0 polycarbonate.
---
Original Press Release:

Stewart Connector's New Shielded 8P8C Modular Plug Series Optimized for CAT6a Patch Cables



Plugs' Unique Design Ensures Superior Repeatability, Plus High Yields in Cabling System Performance

Glen Rock, PA - Stewart Connector, a division of Bel Fuse Inc., (NASDAQ: BELFA and BELFB) today announced the release of the RoHS-compliant SS-39200 Series of Category 6a 8P8C modular plugs. The new parts are the latest addition to Stewart Connector's broad portfolio of connectors, engineered for use in a range of high-speed networking and computing applications. Notably, the SS-39200 Series' mechanical design is comprised of both a wire aligner and load bar to facilitate consistent twisted pair orientation during plug assembly. The wire aligner is uniquely designed with a patent pending "cross talk zone" which introduces a precise amount of cross talk to the plug to allow for centered NEXT (Near End Crosstalk) performance as per IEC 60603-7-51 component requirements and ANSI/TIA-568-B.2-10 transmission performance specifications for 4-pair 100 Ohm CAT6a cabling. Due to the design of the wire aligner, cable assemblers are provided with both a visual and mechanical means to rapidly build patch cables that exhibit more reliable performance characteristics than traditional CAT6 or CAT6a plug assemblies. Additionally, the connectors' strain relief provides superior cable retention and a 360-degree shielding contact to enable a one-step termination process. Parts accommodate typical 24 to 27 gauge solid or stranded cable due to their patented contact design.

Stewart Connector's new SS-39200 Series of CAT6a 8P8C modular plugs is offered to meet the requirements of commercial building telecommunications applications and is therefore well suited for employment in premise wiring, and computer networking technologies. Among the most common applications for which the connectors may be specified are on patch cords used in wiring closets to connect patch panels, hubs, routers, switches and servers. The Series is equally appropriate for use in office environments to connect computers and peripherals to modular wall jacks. Parts are also excellent choices for high-density, side-by-side applications as they are optionally available with an integral strain relief boot that does not increase the overall width of the part. Should an application require an over-molded patch cable, devices are provided without the boot to allow a secondary boot to be molded onto the plug after patch cable assembly.

Plug, load bar and wire aligner are manufactured of UL94-V0 polycarbonate and feature 50 microinches gold-plated contacts for robust, long-lasting connections. Additional specifications include an operating temperature range of -40 degrees C to +85 degrees C, and durability of 750 matching cycles. Voltage rating is 150 VAC, and current rating is 1.5 A @ 25 degrees C. For detailed information on Stewart Connector's SS-39200 Series of Shielded 8P8C Modular CAT6a Plugs, visit www.belfuse.com/Data/UploadedFiles/CAT6a-ShieldedPlugs.pdf

Average pricing for Stewart Connector's SS-39200 Series of Shielded 8P8C Modular CAT6a Plugs is $0.85 each. Delivery is 4 to 6 weeks. Samples are available.

About Bel
Bel (http://www.belfuse.com) and its divisions, including Stewart Connector, are primarily engaged in the design, manufacture, and sale of products used in networking, telecommunications, high-speed data transmission, and consumer electronics. Products include magnetics (discrete components, power transformers and MagJack"¥ connectors with integrated magnetics), modules (DC-DC converters, integrated analog front-end modules, custom designs), circuit protection (miniature, micro and surface mount fuses) and interconnect devices (passive jacks, plugs and cable assemblies). The Company operates facilities around the world.

Stewart Connector
11118 Susquehanna Trail South
Glen Rock, PA 17327
717-235-7512; Fax: 717-235-4675
Web Site: www.belstewart.com

More from Architectural & Civil Engineering Products