Modular Sales Counter withstands harsh retail conditions.
Press Release Summary: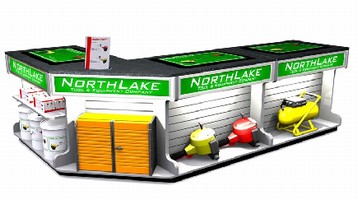 Available in as few or as many sections as desired, Modular Sales Counter offers front-merchandising and backlit headers. It can be customized for new store interior construction and remodeling projects in desired color combinations, finishes, sizes, and designs to match any store decor. Counter can be dismantled, moved to new location, and reassembled when necessary.
---
Original Press Release:
New Modular Sales Counter From Walls + Forms Is Flexible And Easy To Use
Walls + Forms Inc., a leading designer and manufacturer of stock and custom store fixturing/design systems and components for creating store fixturing and more, recently introduced a flexible easy-to-use modular sales counter design that offers "front merchandising" and back-lit headers. It can be ordered in as few or as many sections as desired. This new modular sales counter design is as easy to use as it is to assemble. It can be assembled using non-construction personnel with minimal tools and is also flexible. The flexibility allows you to add or remove sections; it can also be dismantled, moved to a new location, and reassembled when necessary. It is manufactured to withstand the harshest retail conditions. The modular sales counter design shown offers lots of low-cost counter space, slatwall merchandising, storage ease, and lower shipping costs thanks to its modular design. It has a white finish and can be customized for new store interior construction and remodeling projects in the desired color combinations, finishes, sizes, and designs to match any store décor. Walls + Forms also offers a standard stock line of SlotFit(TM) "no tools required" modular counter systems. They are designed and manufactured to meet the aesthetic, structural, and functional needs of retailers. Based on European cabinetry techniques combined with "Good Old American Know How", they are designed to be fully functional and versatile. For further information, contact Sales Department, Walls + Forms Inc., P.O. Box 741112, Dallas, TX 75374-1112 USA. Phone: 972-745-0800. Fax: 972-304-8402. E-Mail: info@wallsforms.com Url: www.wallsforms.com & displaysource.com & www.stor2000.com
More from Fasteners & Hardware