Modular Safety Rail System comes in steel and aluminum.
Press Release Summary: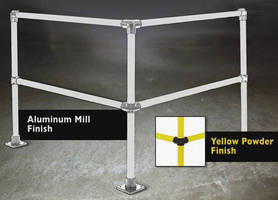 Bumble-Bee® is available as powder coated steel system with black fittings and yellow pipe as well as mill finished aluminum version. With no welding required, system installs in as little as 15 min. Standard kit configurations include straight stand-alone sections of 4, 6, and 8 ft; corner section; and extension kits of 4, 6, and 8 ft. Each kit comes with pipe cut to size, fittings, installation instructions, hex key, base flanges, and test results showing OSHA compliance.
---
Original Press Release:

Hollaender®'s New Bumble Bee® Safety Rail System is Affordable and Simple to Install



CINCINNATI, OH – Bumble-Bee is a modular safety rail system from Hollaender Manufacturing that is now available in both steel and aluminum. The steel system is powder coated with black fittings and yellow pipe, while the aluminum is mill finished and available at a lower price.  With no welding required, the system can be installed in as little as 15 minutes.  The owner simply installs the mounting flanges and inserts the railing posts.  



Bumble-Bee is available in three standard kit configurations – a corner section, straight section and extension.  An optional gate section is also available.  Customers can choose from the original powder coated OSHA safety yellow with black power coated fittings or the new aluminum mill finish.  Both options are available in straight stand-alone sections of 4 ft., 6 ft. and 8 ft., as well as a corner section, and extension kits of 4 ft., 6 ft., and 8 ft.  The straight sections are all built with two posts vs. the original three post design.  This design modification reduces cost per foot, while maintaining the strength needed to meet all OSHA codes.  The mounting flanges are now larger with a mounting pattern of 3 ½ in. x 3 ½ in. versus the previous pattern of 2 ½ in. x 2 ½ in. This larger pattern ensures that the mounting flange will meet all current building codes.    



Each kit comes standard with pipe cut to size, fittings, installation instructions, a hex key, base flanges, and test results showing OSHA compliance.  They are easily installed around machinery and other OSHA regulated areas and are ideal for industrial plants or other indoor and outdoor applications where small quantities of railing are required.  Their modular configuration makes Bumble Bee® safety rail systems easy to install, disassemble and reinstall, or retrofit.   Bumble-Bee railing kits are available from Hollaender, as well as from major industrial distribution companies such as Grainger, McMaster Carr and MSC Industrial.



About Hollaender Manufacturing

Hollaender is a manufacturer and marketer of aluminum structural pipe fittings, aluminum pipe, and infill panels, as well as final assemblies that use these components. These components are used in the design and build of handrail, guardrail and safety rail systems as well as a wide variety of unique modular pipe and fitting based structures for commercial, residential, public works and industrial applications, as well for retail store fixtures and other structural applications. These components and systems are marketed under the trademarked brands Speed-Rail ® and Interna-Rail®. Hollaender also offers consultation, design, and project management services.



Hollaender Manufacturing 

P.O. Box 156399 

10285 Wayne Ave. 

Cincinnati, OH  45215-6399 

1-800-772-8800 

Fax: (513) 772-8806 

www.Hollaender.com