Modular Redundant Switch helps supervise Ethernet network.
Press Release Summary: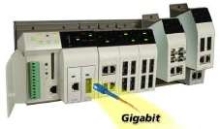 EtherDevice(TM) Switch EDS-726 accepts up to 2 Gigabit ports and 24 fast Ethernet ports from selection of three 1-port Gigabit modules and eight 4-port Fast Ethernet modules, both with copper or fiber optic connectors. Gigabit managed switch features 60° tilted LED panel for viewing port status and activity from all angles. It supports pluggable Compact Flash for configuration back-up, has heat sink on back panel, and features intelligent network management.
---
Original Press Release:

Accelerate Your Network to Gigabit with MOXA EDS-726 Series 26-Port Modular Redundant Switch


Shing-Tien, Taiwan, April 15, 2005-Increasing Ethernet speed is an important issue for industrial automation applications. In order to satisfy the demand for versatility and expansiveness, Moxa is launching a new Gigabit Ethernet Switch that is designed to help you supervise your Ethernet network. EtherDevice(TM) Switch EDS-726, a 26-port modular gigabit managed switch, is a highly versatile, high performance switch that meets the demands of harsh industrial applications.

Moxa EDS-726 Series' modular design lets you install up to 2 Gigabit ports and 24 fast Ethernet ports by choosing from three 1-port Gigabit modules, with copper or fiber optic connectors, and eight 4-port Fast Ethernet modules with copper or fiber optic (SC/ST) connectors. For convenient viewing from all vertical angles, EDS-726 features a 60-degree tilted LED panel that displays the port's status and activity. Also available are a plug-able Compact flash for configuration back-up, a heat sink on the back panel for increasing system stability, and intelligent network management that supports QoS, IGMP Snooping/GMRP, VLAN, LACP, SNMP V1/V2C/V3, and RMON.

o High speed, Gigabit Ethernet Redundant Turbo Ring (recovery time < 300 ms)

Increasing the speed of your network backbone connections is more imperative than ever before. Moxa EDS-726, which comes equipped with a redundant Gigabit Ethernet Turbo Ring, gives you a flexible, yet high-speed Gigabit Ethernet network. If a connection failure occurs, the data path will automatically change over within 300 ms to the backup path to maintain Turbo Ring nonstop running. The switch also supports the standard IEEE network protocol-RSTP/STP (802.1W, 802.1D)-that allows switches from different manufacturers to work together.

o IEEE 802.1X and SSL enhances network security

Moxa EDS-726 supports IEEE 802.1X (Port-Based Network Access Control) and SSL (Secured Sockets Layer) to control network access and enhance user authentication. Users must login to gain access to the port. Authentication is done using the local user database or an external RADIUS server.

o Intelligent Switch to optimize network performance

EDS-726 meets your management needs with advanced features that include QoS for increasing determinism, IGMP Snooping and GMRP for filtering multicast traffic, VLAN and GVPR for easing network planning, LACP for optimum bandwidth utilization, SNMP V1/V2C/V3 for different levels of network management security, and RMON for efficient network monitoring. You will have no trouble configuring your network for maximum performance and reliability.

"On the factory floor, modularized Industrial Ethernet devices can save customers a large amount on inventory cost. They can use only those modules that they need, and also store spare parts more effectively and properly. EDS-726 series is a more flexible yet economical solution for storing spare parts." said Vincent Liu, product manager for Moxa Networking. The switch is currently undergoing final testing at Moxa headquarters, and will be ready to ship by the end of June of this year.

About MOXA
Moxa Networking is part of the Moxa Group, a conglomerate that manufactures device networking products for industrial automation. Information about all Moxa products, which include industrial Ethernet switches, serial device servers, multiport serial cards, and embedded device servers, is available on the Moxa Group's corporate website at www.moxa.com. You may also contact Moxa Networking directly by email at info@moxanet.com, or call +886 (2) 2910-1230.

The MOXA logo is a registered trademark of the Moxa Group. All other trademarks mentioned in this document are the property of their respective owners.

More from Cleaning Products & Equipment