Modular Ratchets accommodate diverse applications.
Press Release Summary: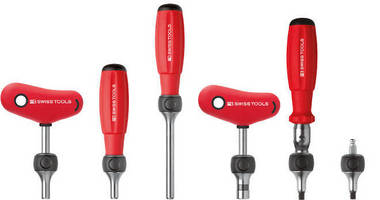 PB Swiss Tools' modular Ratchet Tool Series can be used and switched one-handed and can be adapted with range of PB 225 interchangeable blades, ¼ in. PrecisionBits® C6, and ¼ in. sockets. Ratcheting module and ergonomic handles help conserve time and energy. With over 40 interchangeable blade and bit styles available, product line features Santoprene® coating that ensures transmission of torque with minimal application of force.
---
Original Press Release:

Count On Tools Releases PB Swiss Tools' New Modular Ratchet Tool Series



GAINESVILLE, GA - Count On Tools Inc., a leading provider of precision components and SMT spare parts, introduces PB Swiss Tools' new modular Ratchet Tool Series.

PB Swiss Tools' ratchets are the ideal tool for quickly tightening and loosening screws. The versatile ratchets can be used and switched one-handed. This product line is adaptable with the full range of PB 225 interchangeable blades, 1/4" PrecisionBits® C6, and 1/4" sockets.

With the addition of a ratcheting module to the various ergonomic handles, customers can save a great deal of time and energy. PB Swiss Tools ratchets can be used in any situation, from DIY repair work to precision assembly operations. More than 40 different interchangeable blade and bit styles are available for the new line, making it an extremely valuable tool. Additionally, the ratchets provide the ability to safely fasten screws in difficult situations and inaccessible spots.

With the ergonomically shaped handle, the screwdriver lies exceptionally comfortably in the hand. The handle also has a Santoprene® coating, which ensures the reliable transmission of torque with only a slight application of force, even with wet or oily hands. The Santoprene® coating is resistant to many chemicals and resists color fading.

All PB Swiss Tools ratchets can be switched easily with one hand, which means work can be carried out even in the most difficult conditions. Thanks to the switch ratchet, a three-stage mechanism with small rotation angle (15°/24 teeth), screws can be twisted in and out comfortably.

With more than 130 years of experience, PB Swiss Tools is a global leader of hand tools manufactured for use in the industrial marketplace, even for the most hazardous jobs. All PB Swiss Tools are 100 percent Swiss-made and come with an unlimited lifetime guarantee.

About Count On Tools Inc.
Count On Tools Inc., a precision component manufacturer specializing in all aspects of the machining industry, has been setting new performance standards in the SMT pick-and-place nozzle market since 1991. As the ORIGINAL source for high-quality, low-cost vacuum placement nozzles and associated consumables, they have pioneered with world-class development and process engineers that combine to ensure that innovation and competitiveness is applied to all of its extensive product range. The company also stands behind its products 100% with a full warranty. Count On Tools' products are in use at many of the world's leading electronics manufacturing companies. Proven engineering expertise, coupled with the latest in design and manufacturing technology, has allowed the company to simplify the complexities of the industry and deliver a solution to its customers.

The company also maintains and supports a strong position in the hand tool industry, offering the highest quality hand tools in the world with PB Swiss Tools. These tools compliment any and all high-tech environments requiring optimum performance from both their equipment and technicians.

More from Architectural & Civil Engineering Products