Modular Plug Connectors feature 50 µm gold plating.
Press Release Summary: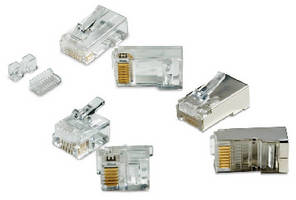 Available in Cat5, Cat5e, and Cat6 versions, TrueConect RJ-Type Modular Plug Connectors feature factory-polished contacts with 50 µm gold plating, making them suited for high-speed data transmissions. Units have 3 offset insulation displacement points, as well as primary and secondary strain relief design that doubles cable holding strength of terminated connector. Housed in thermoplastic, plugs allow for visual verification of wiring configurations.
---
Original Press Release:

TrueConect Introduces the Next Generation in Modular Plug Connectors



Unparalleled Performance at a Fraction of the Cost of Competitors

SOUTHLAKE, TX - Specialized Products Company (SPC) today announced a premium quality yet competitively priced series of RJ-Type modular plug connectors designed to out-live and out-perform competitive brands in day-to-day use.

TrueConect differs in that ALL Cat5, Cat5e and Cat6 RJ45 connectors feature factory-polished contacts with the HIGHEST Quality 50 µm gold plating making them the ideal choice for high-speed data transmissions. These modular plugs offer proprietary gold deposition technology that produces consistent, accurate and ultra smooth contact surfaces for better conductivity and lower resistant forces for better wear and signal carrying capabilities.

TrueConect modular plugs feature three offset insulation displacement points, providing 40% more surface area that is inserted into each conductor at termination. More contact area assures a better connection and better overall conductivity over the long run. Thus, the life span of the connector is superior to any other modular plug connector design.

Also, all TrueConect modular plugs feature both a primary as well as a secondary strain relief design that doubles the cable holding strength of a terminated connector. The durable thermoplastic housings, of the TrueConect modular plugs, also allow for visual verification of wiring configurations.

RJ-Type modular plug connectors have been the industry standard method of cable connection for voice POTS, data and more recently high-speed video networks.

The TrueConect modular plugs, now available through SPC, beat competitively priced brands in two very important criteria - performance and length of service - important assets required for today's ultra-high speed data networks.

Modular plugs are typically made of clear plastic and have gold plated contacts of varying thickness - 15 µm, 30 µm or 50 µm (microns). Contacts with the thinner 15 µm and 30 µm gold plating that is not polished come at a large trade-off between low cost versus high quality requirements. The thinner gold-plated contacts often begin to show early signs of wear and tear in insertion and pulling life cycle testing.

The TrueConect modular connectors are ideal for 10BASE-T, 100BASE-TX, and 1000BASE-T applications. TrueConect's lineup of RJ-Type modular plugs includes legacy Cat5, standard Cat5e plus the newer Gigabit Ethernet compliant Cat6 RJ45 connectors.

TrueConect's lineup of RJ- Type modular plugs - RJ11, RJ12, and RJ45, are fully compliant with most current CSA, UL and TIA/EIA-568-B.1 specifications.

For more information and/or to purchase TrueConect RJ-Type modular plugs, go to http://www.specialized.net/Specialized/TrueConect.aspx

More from Controls & Controllers