Modular Overhead Crane targets growing companies.
Press Release Summary: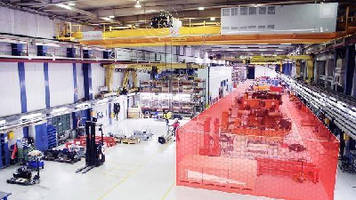 With SMARTON, customers can adapt equipment to evolving needs of operations. Crane offers capacities from 6.3–250 tons with single trolley and 500 tons with 2 trolleys. System monitors its own condition and recommends when and what kinds of inspection/preventive maintenance should be performed. Connected wirelessly to crane control system, tablet provides advanced crane condition data in real-time. Some smart features include: target position, working limits, sway control, and end positioning.
---
Original Press Release:

Flexibility and Adaptability of Konecranes' Modular SMARTON Crane is Ideally Suited to Growing Companies



Protected areas is just one smart feature of the latest Konecranes SMARTON 'crane with a brain'



Konecranes SMARTON 'crane with a brain' is a module-based system of crane technology that provides customers great flexibility in adapting their equipment to the evolving needs of their operations.



SMARTON's evolutionary design is based on significant improvements in crane technology in proven modular components and features. This means that the crane can easily be updated with smart solutions, such as automated positioning, extended speed range, defined working areas, maintenance monitoring or remote diagnostics, to meet changes in the customer's business and process needs.



"Modularity is particularly important for growing companies, where changes in workforce, workshop size or workshop layout may be significant and require the crane to be highly adaptable," says Mr John Bailey, General Manager, Service Development, Konecranes Australasia.



"Modularity is also important to us as a crane manufacturer, because customer needs vary considerably from industry to industry, as well as from one location to another, so there is a clear need for a product that adapts to these different requirements."



Industries that use SMARTON cranes – in capacities from 6.3 to 250 tons with single trolley and 500 tons with two trolleys – include paper, automotive, power, steel, general manufacturing, workshops, storage systems and mining. 



Another advantage of the SMARTON crane is that it monitors its own condition and recommends when and what kinds of inspection or preventive maintenance should be performed. This way, the customer can better plan and minimise maintenance shutdowns, thereby maximising uptime and saving costs.



"SMARTON presents an evolution in crane technology, designed to maximise customer productivity and minimise total lifecycle costs," says Mr Bailey. "SMARTON is a robust crane that is compact in size. This enables new industrial spaces to be smaller than before, reducing construction costs and heating expenses. The user can put the load down much closer to the wall, freeing up valuable floor space for other operations."



New Features



Konecranes recently introduced a range of new high-tech features to its proven SMARTON crane, to further enhance safety and efficiency by focusing on improving the user interface for crane operators, customer service crews and customer management.



The new SMARTON includes for example a tablet, which improves the user experience. The tablet makes crane operation easier and more productive as the operator receives crane and process related information directly to the tablet and is able to make adjustments to the crane. Optional camera views for safer and more effective load handling are also available. The SMARTON tablet is connected wirelessly to the crane control system providing advanced crane condition data in real-time for the maintenance personnel.



"The SMARTON includes Smart Features and TRUCONNECT® Remote Services, available to improve safety and productivity of the customer's lifting processes," says Mr Bailey.



"SMARTON makes it now even easier to tailor solutions for customers who want to get the benefits of the latest technology and have safety and a Total Cost of Ownership approach as part of their 'DNA'. With flagship products like SMARTON, we want to make sure customers who need advanced technology in their operations get it."



Smart Features include:



• Target Position

• Working Limits

• Sway Control

• End Positioning

• Shock Load Prevention

• Adaptive Speed range and Extended Speed Range



For more information on Smart Features and how they improve the safety and efficiency of the SMARTON crane, see the video link below, or visit the Konecranes website, www.konecranes.com.



View the SMARTON Video here: https://youtu.be/_XCnLCzITZ0



Additional Information:

For more information in Australasia, please contact:

Konecranes Sales and Marketing, 14-16 Heald Rd, Ingleburn NSW 2565, ph 61-2-8796 7666, fax 61-2-9605 4336, email sales.australia@konecranes.com



Sales inquiries 1300 937637 (Australia wide) or visit our website www.konecranes.com.au



About Konecranes, Inc.

Konecranes is a world-leading group of Lifting Businesses™, serving a broad range of customers, including manufacturing and process industries, shipyards, ports and terminals. Konecranes provides productivity-enhancing lifting solutions as well as services for lifting equipment and machine tools of all makes.



In 2013, Group sales totalled EUR 2,100 million. The Group has 11,800 employees, at 600 locations in 48 countries. Konecranes is listed on NASDAQ OMX Helsinki (symbol: KCR1V).



More from Agricultural & Farming Products