Modular Office Systems suit commercial/industrial use.
Press Release Summary: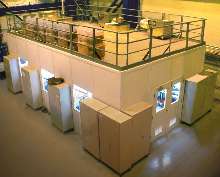 Easy-Three(TM) and Super Structure(TM) non-progressive, unitized, flexible wall systems allow for modification, expansion, and relocation of modular office with minimal labor. Their 3 in. thick walls are constructed using type X fire rated gypsum and have faces of vinyl or 26-gauge stucco-embossed galvanized steel. Non-progressive post design enables individual panels to be swapped or replaced without disturbing adjacent panels.
---
Original Press Release:

Modular Office Offers Value and Savings


National Partitions offers high quality modular office systems for institutional, commercial and industrial use. The non-progressive, flexible wall systems allows for modification, expansion and relocation. 3'' thick walls are constructed using type "X" fire rated gypsum, with faces of vinyl or 26-gauge stucco-embossed galvanized steel. National Partitions--better products, lower prices, faster occupancy. www.n-p.com. 888.974.7533

Modular Office Offers Value and Savings

(Miami) November 13, 2003--Companies grow, and needs change. One of the main advantages of a National Partitions' flexible modular office is that you have the ability to take the office down and relocate it.

The non-progressive, unitized wall system design allows the flexible modular office to be modified, expanded, or moved with a minimal amount of labor. This system, coupled with National's Wire-Pak(TM) modular wiring, (which can be utilized for all 110v. electrical wiring) offers the most flexible office available.

And with modular design, a company is never locked into its original design. The non-progressive post design provides the ability to swap or replace the individual panels of the flexible office without disturbing adjacent panels. The panels are also interchangeable and can be assembled to fit any need.

National Partitions' flexible modular office systems include the Easy-Three(TM) and the Super Structure(TM), which can be arranged in Moduplex(TM) office configuration. Both systems adapt well to a changing business environment.

Rebecca Waliga
NATIONAL PARTITIONS
Direct: (305) 818-2851
Toll Free: 1-800-327-3697, ext. 266
Fax: (305) 364-8134

More from Material Processing