Modular Mounter places up to 33,000 components per hour.
Press Release Summary: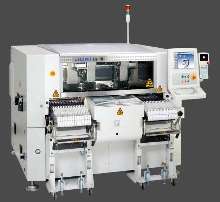 Utilizing linear motor technology and proprietary HI-Drive mechanism, FX-1R placement machine achieves throughputs of 33,000 cph (optimum) or 25,000 cph (according to IPC 9850 standards). It employs dual placement heads, with 4 nozzles each, on one X beam, where heads alternate picking and placing. Featuring SuperCast(TM) single piece frame, unit utilizes Windows XP OS for security, network connectivity, and peripheral support such as USB.
---
Original Press Release:

Juki High-Speed Modular Mounter Delivers Faster Placement Rates


FX-1R places 33,000 components per hour with unique dual head design...

MORRISVILLE, N.C. (November 29, 2004) - Juki Automation Systems introduced the FX-1R high-speed placement machine, delivering 10 to 15 percent improved actual throughput. Utilizing the most advanced linear motor technology and Juki's unique HI-Drive mechanism, the FX-1R operates at faster speeds and can place a maximum of 33,000 CPH (optimum condition), or 25,000 CPH according to IPC 9850 standards.

The increased placement speed is achieved through Juki's unique dual placement heads with four nozzles each, on a single X beam design. This results in one head picking components while the other places simultaneously.

"The unique design with two heads alternating picking and placing and moving only on the x-axis enables the machine to run faster, quieter and with less moving parts," said Gerry Padnos, Juki's Director of Technology.

Juki's SuperCast(TM) single piece frame (also used in the proven KE-2050 and KE-2060 models) reduces manufacturing time while significantly increasing machine rigidity, accuracy, and durability.

The FX-1R is 100% compatible with Juki's HLC line control software and can be easily integrated with existing production lines. It is also compatible with Juki's NTF, NF, FF, and CTF style feeders used on the KE-700 Series and KE-2000 Series machines. With Microsoft's Windows XP operating system, the FX-1R provides enhanced security, network connectivity, and peripheral support such as USB.

The new machines will be ready for shipping by January 2005. To request a demonstration of the FX-1R, email Juki Automation Systems at sales@jas-smt.com. For more information on Juki, contact Juki Automation Systems by phone at 919-460-0111, by fax at 919-469-0480, by mail at 507 Airport Blvd., Morrisville, N.C. 27560, or at www.jas-smt.com on the Web.

Juki Automation Systems Inc., the exclusive partner of Tokyo-based Juki Corporation, is a leading supplier of SMT automated assembly equipment to the printed circuit board assembly market. Since 1987, Juki has shipped more than 10,000 SMT systems, making it one of the world's largest suppliers of SMT Assembly equipment.

Related