Modular Motors are capable of up to 18 MW output.
Press Release Summary: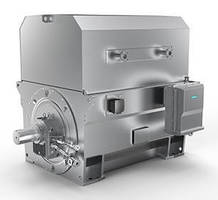 Comprising 4- and 6-pole variants with outputs ranging from 16 MW at 10 kV to 18 MW at 6 kV (50 Hz), Simotics HV M high-voltage motors have 800 mm shaft height and support options that allow precise adaption to individual applications. Ex p or Ex n variants are suitable for use in areas subject to explosion hazards, and other variants are available for use in temperatures down to -50°C or applications with vibration requirements in line with API standard.
---
Original Press Release:

Modular Concept up to 18 Megawatts Cuts Project Planning Times for Simotics Motors



Nuremberg –



New Simotics HV M motors in 4-pole and 6-pole variants with outputs of 16 MW at 10 kV and 18 MW at 6 kV (50 Hz)

Available with Sinamics medium-voltage converters as an Integrated Drive System (IDS)

Increased plant availability and short lead times



The Simotics HV M series with a shaft height of 800 millimeters is the latest addition to Siemens' portfolio of modular, high-voltage motors. In the 4-pole and 6-pole variants, outputs of up to 18 MW at 6 kV (50 Hz) are now achievable, extending the benefits of a modular motor concept to users in this performance class. Standardized production and test processes cut lead times, increase plant availability and simplify spare parts storage. Integration into standard tools such as Sizer Web Engineering shortens project planning times, and the tool also supports users in configuring system components. A wide range of options means that Simotics HV M motors can be adapted precisely to the individual applications; special paint systems, for example, protect against salty or other aggressive environments. In the Ex p or Ex n variant, the motors are suitable for use in areas subject to explosion hazards. Variants are also available for use in extremely low temperatures down to -50°C or in applications with rigorous vibration quality requirements in line with the API standard.



Modular concept up to 18 megawatts cuts project planning times for Simotics motors.



The new motors from the Simotics HV M series cover an output range of 16 MW at 10 kV and 18 MW at 6 kV (50 Hz). The use of standard tools ensures shorter engineering times.



The Simotics HV M motors can be equipped with a predictive condition monitoring system, and can be combined with Sinamics medium-voltage converters to form Integrated Drive Systems. On the design side, customers benefit in particular from the reduced weight of the steel enclosure, which makes it easier to transport the motors and integrate them into the plant. The increased torsional stiffness of the motors boosts reliability and makes for greater plant availability.



Simotics HV M motors are used above all in compressor applications such as gas pipelines, gas storage facilities, air separation units and rolling mills.



For further information on Simotics HV M motors, visit www.siemens.com/simotics



Siemens AG (Berlin and Munich) is a global technology powerhouse that has stood for engineering excellence, innovation, quality, reliability and internationality for more than 165 years. The company is active in more than 200 countries, focusing on the areas of electrification, automation and digitalization. One of the world's largest producers of energy-efficient, resource-saving technologies, Siemens is No. 1 in offshore wind turbine construction, a leading supplier of combined cycle turbines for power generation, a major provider of power transmission solutions and a pioneer in infrastructure solutions as well as automation, drive and software solutions for industry. The company is also a leading provider of medical imaging equipment – such as computed tomography and magnetic resonance imaging systems – and a leader in laboratory diagnostics as well as clinical IT. In fiscal 2014, which ended on September 30, 2014, Siemens generated revenue from continuing operations of €71.9 billion and net income of €5.5 billion. At the end of September 2014, the company had around 357,000 employees worldwide. Further information is available on the Internet at www.siemens.com.



Contact:



Mr. Stefan Rauscher

Process Industries and Drives Division

Siemens AG

Gleiwitzer Str. 555

90475  Nuremberg

Germany

Tel: +49 (911) 895-7952

stefan.rauscher@siemens.com

More from Architectural & Civil Engineering Products